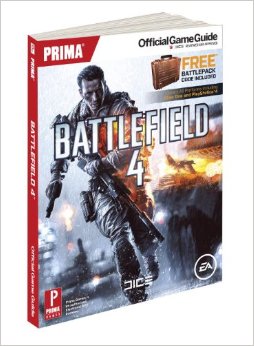 In back to back weeks, have two huge multiplayer shooters releasing. Oh sure, they have single-player campaigns, but we all know why people really play these games–to shoot their friends and strangers. In the case of Battlefield, it's to knife a newbie in the back. (I'm not bitter about that steep learning curve or anything.) If you're not as bitter as I am and are planning to play Battlefield 4, then why not win the Battlefield 4 strategy guide to have an up on camping veterans?
The Battlefield 4 FreeGuideFriday is open up to both Twitter followers and Facebook page fans. You still have to be a US resident, though. If you happen to follow us on Twitter and Facebook, then you can enter on both places have two entries! Winner will be picked on Friday and will be notified via DM on Twitter or private message on Facebook.
In addition, if you want extra entries, all you have to do is donate $10 to my Extra Life fundraiser and you'll get an additional entry per $10 you donate. Also, every $10 you donate will also put you in the running for a strategy guide of your choice! Just be sure to leave a little SGR comment about which guide you're wanting so I know which contest to enter you in or if you want to be in both!
Ready to read the rules before entering? They're a little different this week, so I'll know if you're reading!
Twitter Contest Entries
Follow both @strategyreviews AND @primagames on Twitter.
Tweet what you want the Battlefield 4 strategy guide from @primagames to do for you. This can be something as simple as find all of the collectibles or how to best customize a soldier for your type of multiplayer gameplay. Be sure to mention both @strategyreviews and the #FreeGuideFriday hashtag.
Facebook Contest Entries
On the SGR Facebook page post announcing this contest (hint: it has a link to this article), leave a comment saying what you want the Battlefield 4 strategy guide to do to help you play the game.
In your comment, be sure to end the comment with the #FreeGuideFriday hashtag (for whatever reason FB has hashtags now).
One winner will be selected randomly from both pools of entries, so if you're a fan/follower of both accounts, then definitely enter in both places! Winner will be chosen around noonish on Friday, so be on the lookout on both Twitter and Facebook!