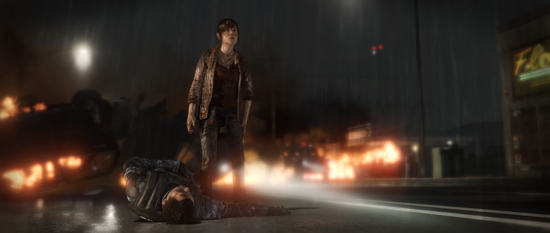 I was a huge fan of Heavy Rain when Quantic Dream released it back in 2010. I've loved it so much that I've pushed it on a number of friends, and sadly, none of them liked it as much as I did. Nevertheless, when the studio announced they were making another game in their interactive drama genre, Beyond: Two Souls, I was excited. I only got more excited when I saw Willem Dafoe would be lending his talent to the game. Unfortunately, Beyond: Two Souls did not live up to the hype. It was a brilliant idea marred by an extremely flawed story and boring sequences. It's sadly another example of a great idea with bad execution.
Here is a small sample of my review over on ActionTrip.com:
The story is told in a Pulp Fiction format, constantly jumping back and forth between the present and parts of her [Jodie's] past. One minute you're playing what Jodie is doing now and the next you're playing her when she's a teenager, and then the next when she's 7 years old, and repeat. It's a smart move, because telling the story from the beginning would make it far more boring than it is. However, some chapters don't feel like they're part of the story at all. Instead they feel as if they were shoe-horned in to make the game longer. And then, any story element that is interesting gets beaten to death. Early on in the game, Jodie has to close a condenser that the Paranormal division built to open a passage to the "other side" – the spirit world that also contains horrific monsters. Jodie will also have to close condensers in the New Mexico desert, in a hostile Asian country, and once again in Washington, DC. How Jodie has to close each passage changes each time, but it doesn't change the monotony of doing the same thing over and over. You can argue pretty much every game does that in some form, but since this is a story device used over and over, it grated on my nerves a bit more than it normally would. If this was a movie as it obviously wants to be, I would have rolled my eyes by the second or third time Jodie had to close a passage.
Visually, the game is stunning, and with Ellen Page and Willem Dafoe at the helm, the voice acting was stellar as well. The gameplay mechanics were also greatly improved over those introduced from Heavy Rain. However, you play this type of game for the story; there is nothing difficult or grossly compelling about the gameplay to bring you back again and again as is required with other genres. As such, when the story has continuity problems, repeated plot devices, a fairly predictable revelation, and ending choices that don't fully make sense, the game is effectively ruined.
While I am glad I experienced Beyond: Two Souls, it's not exactly one I can recommend to my friends.