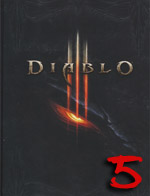 Wait, hold up a second…didn't we already review a strategy guide for Diablo III? Why yes, we did over a year ago. However, Blizzard has ported this PC game to consoles, and BradyGames felt like they needed to revamp the strategy guide to fit the new style of game. Since Blizzard changed numerous aspects of Diablo III even while it was a PC game, the strategy guide sadly needed to be edited again anyway (not the fault of the writers, publishers, etc., mind you). As a complete newbie to the world of Diablo, I had zero idea what to expect from the game and the strategy guide. Since the game initially appeared to me to be a mindless hack-n-slash, I wasn't sure I would need the strategy guide at all, but I was wrong, and the guide really helped me when I needed it.
Since I am such a novice to Diablo, I knew nothing about the character classes. I thought I could wing it since it seems to be an RPG, right? The classes are typically the same for every RPG, so hey, I should be good on my own. Yeah, not quite. As soon as I saw the names of the classes, I knew I needed some research. There's a wizard and a witch doctor? What's the difference? Is the monk similar to monks in JRPGs? A demon hunter? Is that a fancy name for ranger? I had to turn off the game and do something I rarely do–read the introduction information to the strategy guide.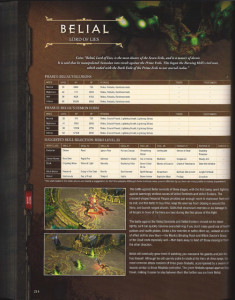 The Diablo III strategy guide kicks off with nearly 100 pages of information on just the character classes. It includes information about the style of play of each character, where they excel in combat, their equipment, and all of their skills. I was able to learn exactly what type of class would best suit me for my first time to play (which was a Barbarian…should surprise no one) and my typical play style.
Another thing the strategy guide did for the classes was for each boss fight, it listed the recommended level for the Hero at each difficulty and what skills the classes should know and equip for optimal success. Since your Hero is pretty weak early on the game, this information was absolutely invaluable. I was able to get through each boss fight the first time with little difficulty, and it really was thanks to the recommended skills. Oftentimes, I didn't have these particular skills equipped, and it didn't take long to discover how quickly I would have died if I went in to each boss battle with my typical skills and runes.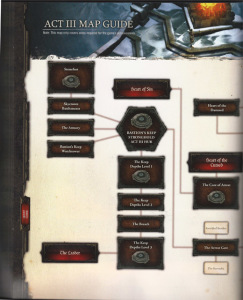 One thing that greatly surprised me about the strategy guide was the lack of maps. I assumed since this was obviously a dungeon crawler, there would be maps detailing all of the treasure chests, item pick-ups, places for side quests, etc. The strategy guide pointed out that the game is randomly generated each time you play, so it became readily apparent to me that creating maps would be nigh impossible. So what the strategy guide did instead was map out in its own way all of the possible dungeon offshoots you can find in a particular area. Also, whenever you would reach a specific zone in a dungeon, the guide would mention all possible side quests that could randomly generate and how to complete them. Again, I don't know how the writers handled this without pulling their hair out.
The appendices are really where the strategy guide shines the brightest. Every list you can think you might want is in there, including a superb crafting guide with recipe lists, a list of every piece of lore and its dungeon location, and every single possible conversation as well as how it unlocks. Just with these appendices, you can complete almost half of the game's challenges and thereby several Achievements/Trophies.
Of course, the strategy guide also includes the endgame information such as the paragon levels and the optional quests that unlock after you complete the harder difficulty modes–Whimsyshire and Infernal Machine. I'm not sure I'll ever play the game enough to unlock these quests, but at least I'll always have the know-how for finding them. They appear to be a giant pain to unlock, and I have no idea how anyone would have known about these without some sort of help.
I tried to find something that the Diablo III strategy guide fell short in, and I honestly found nothing. Considering I breezed through my first time ever playing a Diablo game thanks to this strategy guide, I suppose I really can't ask for anything more.
SGR Rating: 5/5
Author: Doug Walsh
Publisher: BradyGames
Editions Available: Paperback and Collector's Edition
Acquired via Publisher