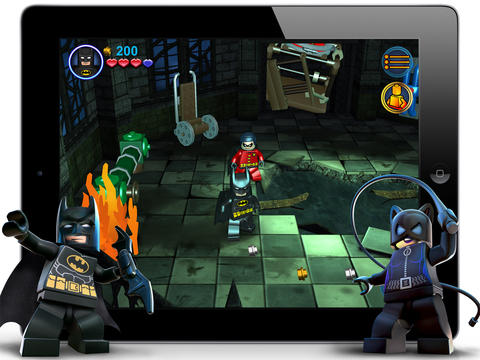 My five-year-old has really been getting into video games (as much as a kid his age can) over the last year or so. He has my old iPad, so he's played some games with that, and he's become a star at all things Angry Birds. Levels that make me want to hurl my iOS device across the room he easily conquers and gets mad he only got 2 stars.
But of course, the iPad won't satisfy him for long, and he's developed a slow interest in my own video games, especially when he saw me playing LEGO Batman 2 on the PS3 last year. The game features two of his most favorite things: LEGOs and Batman. Of course he's going to want to play. We've tried playing it together a little bit, but the controller is a bit much for him and it's hard that he still can't read to really learn how to play. It also doesn't help that he has the attention span of a gnat, so he doesn't really listen or retain what I tell him in how to play.
So on a whim one day, I looked to see if the game or a facsimile of it was available for the iPad. It indeed is, called LEGO Batman DC Heroes, and it's the handheld version of the game. Two control schemes are offered, touch and virtual controls, so I set it on touch controls for him and let him go to town.
Holy crap this is the worst game to have as touch controls. For starters, you jump by performing a two-finger zoom-out swipe. You have no idea how much harder that is to execute and control than it sounds. I have sent more Bat-characters careening to their deaths in one scene than I have an entire game. The virtual d-pad is almost worse.
All I have felt is frustration when he asks me to "help" (a/k/a, play this part for me) to the point I've pretty much passed it to my husband who has a truckload more patience than I do. He comes to me when he gets stuck, because he isn't as versed in LEGO games as I am, so he doesn't always know what little things to look for when trying to progress through a level.
I cannot wait until Gabe finishes the story mode of this game. I've told him we'll help him through the story mode, but then he's on his own. I'd rather play a platformer than go through that game ever again. It's just yet another reason why I rarely play iOS games, and why I'm ready for him to enjoy playing games with a controller.
I'm glad he loves it for now, but I'm not sure it was $4.99 well spent.