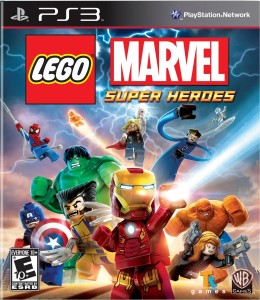 Before I delve into this, let me make one thing clear; I am excited about LEGO Marvel Heroes for several reasons. One, it's a new LEGO game, and I love these games to absolute pieces (pun intended). Second, it's Marvel, and I love practically everything Marvel.
However, this weekend made me realize I'm really excited about LEGO Marvel Heroes' release this week for one big reason: I'm so sick of playing LEGO Batman 2 with my son.
My eldest boy is really into Batman everything right now. He's going to be Batman for Halloween, he wants Batman toys, and he loves the LEGO Batman game on his iPad. Since I refuse to play that horrific game, I offer to play LEGO Batman 2 with him on my PS3. The first time we played together was an absolute nightmare, as it became readily apparent that it's a problem he can't read and the controls are often a bit complex for him. I often had to take the controller from him to maneuver through some areas he just couldn't figure out, even with me telling him which buttons to press.
He begged me to play with him again, and I prepared myself for another somewhat painful experience, but this time, he got it. I would only have to remind him what buttons to replace every now and then. I would have to keep his attention at times and tell him where I needed him, but for the most part, he really had the game down.
So now, guess what we play together every time he notices I'm not feeding the baby? I have this game memorized inside and out. I hear the dialogue in my sleep. As much as I love Clancy Brown, Troy Baker, and Travis Willingham, I'm really sick of this script running through my head.
Gabe really likes the Avengers, so I'm hoping this will distract him a bit so maybe we can trade off which games we play between Batman 2 and Marvel Heroes. Then I'll have two games I'm absolutely sick of.
At the same time, it is fun playing these games with him, even though I could most likely play them in my sleep.