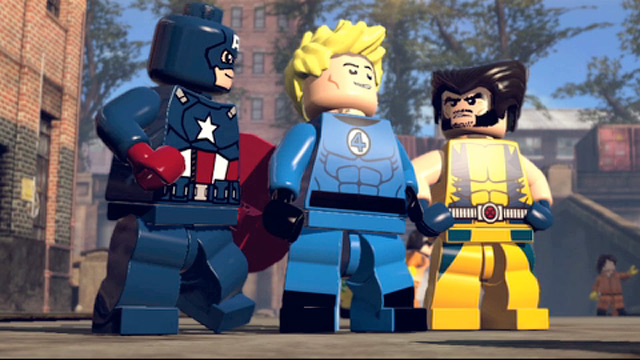 I have to admit, that when Traveller's Tales started adding voices to their LEGO games, I was less than thrilled. My first experience was with LEGO Batman 2, and even though the dialogue was comical and I love the voice cast to pieces, I just couldn't embrace it. There was just something charming and funny about a game that told an entire story through gestures. The amount of parody the writers were able to produce was amazing. Then they brought in movie quotes for LEGO The Lord of the Rings, which was extremely disappointing. I had hopes that they wouldn't do the same with LEGO Marvel Super Heroes, but of course they did. And you know what? The dialogue MADE this game. In fact, it's the only reason why I can recommend it at all.
I reviewed LEGO Marvel Super Heroes for ActionTrip.com. Here's a snippet of what I had to say on this subject.
LEGO games are known for their strong parody on the series they emulate. Since they've taken on some of the most popular comics in DC and Marvel, their sources of what they can poke fun of is almost limitless. And yes, they expose that at every corner. Hulk is always asked to clean up his messes after a mission, Wolverine suddenly remembers that he has to go buy more hair gel, and Spider-man tries to come up with a reason why he's always leaving his girlfriend alone at a coffee shop. It's always a coffee shop.

And that's pretty much why you would play this game. It's not for the gameplay, even though it is quite fun.
My Extra Life teammates played a little bit of the game during their marathon campaign, and both participants have vowed to purchase the game after their brief stint. It was all about how much the game made them laugh. I even tweeted that I laughed out loud more at LEGO Marvel Super Heroes than I did Saints Row IV.
By no means is this a game of the year contender, but it's fun. And it's funny. Sometimes that's all you really need or want when you play a game.
I can't recommend it enough, even to those who haven't played LEGO games in the past. All you need is a love of the Marvel universe, a sense of humor, and preparation for silliness.
However, I will warn you that the co-op is the worst I have ever witnessed in any split-screen game.
Depending on where your partner is in the level, the camera and split-screen will adjust to try to accommodate you both in terms of where each player is in the level. Sometimes this causes neither of you to be able to see where you need to go or lock onto what you need to in order to trigger the next event. The characters will even switch which half of the split they are on, so you can never rely on "your part" of the screen. In some instances, the camera and split-screen make the co-op downright unplayable. I had to make my son drop out of the game once, because neither camera would focus on either one of us, even when we were standing in the same spot. I have a feeling I'm going to have to tell him we can't play this game together anymore due to these camera issues and the fact that it has caused a bit of motion sickness at times.
In fact, I've already told him that I'll play LEGO Batman 2 with him whenever he wants as long as we don't play Marvel Super Heroes together again. I'm very fortunate he's left his Iron Man phase and is in a full-blown Batman phase.