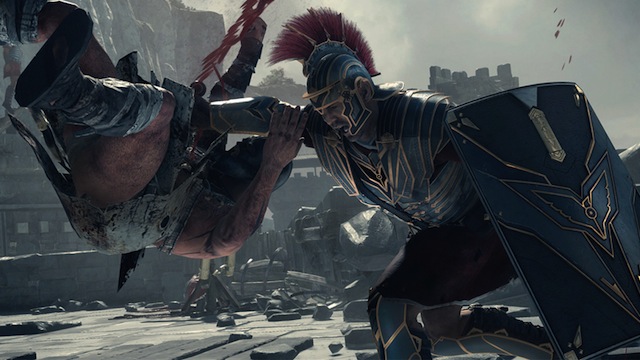 Ryse: Son of Rome has been lambasted in reviews, and of course I end up absolutely loving the game. It's not a Game of the Year contender by any means, but the game isn't terrible like so many want to say either.
That said, when I reviewed Ryse for Game Revolution, I did my best to be as fair to the game and what gamers generally like as possible. I gave the game a 3/5, and that's because even though I found it fun, I understand that many will not find it as great as I did.
This makes sense, I swear.
Ryse is pretty darn accurate when it comes to depicting Roman tactics in battle. As a Roman history fanatic, I found this really exciting. However, being accurate with war tactics doesn't mean that the game will be exciting to play. If Call of Duty or Battlefield were as realistic and accurate, I can guarantee you that they wouldn't do so well. There's a reason why so many real military soldiers (like my husband) love those games–it's because they aren't realistic.
Since Ryse is so accurate, the same military tactics are played out over and over, such as the traditional Roman tortoise technique. I completely admit that many gamers will find this to be tedious and boring.
I admit the same with the hand-to-hand combat, even though I found it to be quite the guilty pleasure. I can honestly see me replaying this game again to nab a few more Achievements, I had that much fun.
Here's a small snippet of what I said in my actual review. I really did try to be honest with what gamers would like and balance it out with my love of Roman history.
Interestingly enough, the game shows that the writers and developers really did their research with Roman history and even British history. At one point, Marius has to entangle with the Horned King, which is straight out of Welsh history and mythology. The Horned warriors even executed the captured soldiers using wicker baskets, also inherent in Welsh mythology and history.

Little touches like that made me smile a bit, but then other things showed that they either didn't completely do their research or they just didn't care. For example, this is about Rome and Roman soldiers, yet the characters used Greek names for the gods. The writers even took the Greek myth of the sword of Damocles and wrangled it to fit what they needed for their story of vengeance.

But then the writers actually scripted for one of the Roman soldiers to yell, "The Britons are coming! The Britons are coming!" as the Romans were trying to evacuate, which made me literally laugh out loud. I swear to you that if at any point when Marius was sailing to Britannia someone ordered "Ramming speed!", I would have given this game a perfect score on the spot.

Well, I would have wanted to, but the gameplay would have prevented me from doing so, as this is where Ryse does take quite a hit. The style does not deviate much from four types of combat, which though accurate for what Roman soldiers did in battle, doesn't mean that it is interesting to play. After about three to four hours of game time, you've pretty much experienced all the combat styles the game has to offer. At least the main campaign is short.
Ryse: Son of Rome is most likely a rental for many people, but please do not knock it until you try it.
And by the way, all reviewers who trashed the game for the microtransactions obviously didn't try out a lick of multiplayer. Yes, it is possible to purchase gold to use to level up Marius Titus and buy equipment for your gladiator, but that's not the only way to get gold. You can get gold by playing multiplayer. The ability to purchase just speeds things up a little bit.