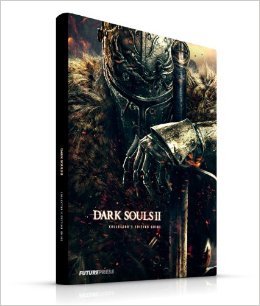 Future Press has been sadly quiet for a long time now. I was honestly afraid they weren't in the strategy guide business anymore, but a lovely Facebook update put all those fears to rest. In fact, they announced that they are responsible for the sequel to one of the most popular strategy guides in existence, the Dark Souls 2 strategy guide.
We're finally able to announce the official guide to Dark Souls II. We've been working, and dying, for a while now, trying to make it even better than the first one. That may be a tall order, but we've enlisted the help of top Dark Souls players Marcus (aka EpicNameBro) and Franz (aka A German Spy) in our quest to uncover everything. We're almost there!
If you are thinking of picking up this guide at all, I can't emphasize enough how important it is to preorder it. The strategy guides for the first Dark Souls sold out within days of the game's release, and it wouldn't surprise me if this guide sold out before the game released.