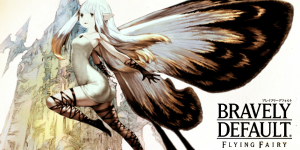 I've had the demo to Bravely Default since it released on the eShop, but I wasn't able to really check it out until this past weekend. The big thing about the demo is that it contained content that wasn't in the full game, yet your progress in the game would carry over to the full game as bonuses. It's a free demo, and if you like JRPGs and have a 3DS, I can't recommend trying it out enough.
At first, I really thought it was yet another typical JRPG. Here's a party of four characters, it's turn based combat, and oh hey, you can assign them jobs that you can switch out when you want, something that has been part of Square Enix's Final Fantasy series since III (the original III, not US III).
What makes it unique is a little twist in the combat system with the Default and Brave options and the city restoration project. By sending in villagers to rebuild a city, the restoration efforts unlock new items you can buy from a traveling peddler. Every building can be leveled up, yielding better equipment. You start off with one villager working by himself, but with Street Pass, you can recruit more villagers to help speed up the projects. Considering I don't live in Japan and didn't go to a convention this past weekend, my villager worked by himself for pretty much the entire time. I found myself checking my 3DS throughout the day, checking up on my villager's progress and assigning him to a new task. I need that Mythril sword! Work faster, you little bitch!
The demo took me nearly 6 hours of active gaming time to complete, and I was downright sad when it ended. But my villager! He just got a buddy to share the workload and I was so close to unlocking that Mythril armor! I don't get to see what else I can unlock right now? Are you sure there aren't any other monsters for me to defeat? What about fetch quests. Surely one of you lazy bums has something only I can retrieve for you. Nothing? Really? But February 7th seems so far away…
Looks like I am going to order that collector's edition after all, because I have soooo much time for yet another Square Enix JRPG in my life.