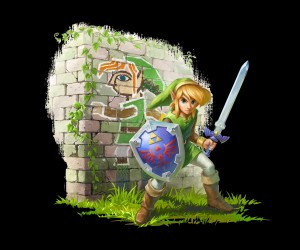 It's amazing how much your perspective about the holidays changes from when you were a kid to when you have kids. The holidays were a time of vacationing that always included lots of time to get the important things done, like finishing video games and cleaning out your DVR. When you have kids, you suddenly realize that they're home with YOU 24/7 for the next 2-3 weeks and that means you will get absolutely nothing done. The house won't stay clean, the laundry will pile up, and you can just forget about any me time except for maybe late at night, but by then, you're too exhausted to do anything for yourself.
So yes, it may sound pathetic that it wasn't until this last week that I finally found time to check out A Link Between Worlds, but that's the way it is, baby, and I'm so excited I carved out the time to do so.
I never finished A Link to the Past (I know you're all shocked), but I did play enough of it to instantly see the connection between it and ALBW. The layout of the world is exactly the same, the layouts of the villages are the same, and it's just adorable. I was delighted to see the Milk Bar in the exact same spot. I only got about an hour into the game, but I instantly felt like this could be the second Zelda game I finish. Maybe then I'll get back to finishing ALTTP! We can dream, right?
No better time to do it than now. I think I have this month free before the strategy guides come bounding in again.
Ready to make this a fun 2014 with strategy guides? I know I always am!