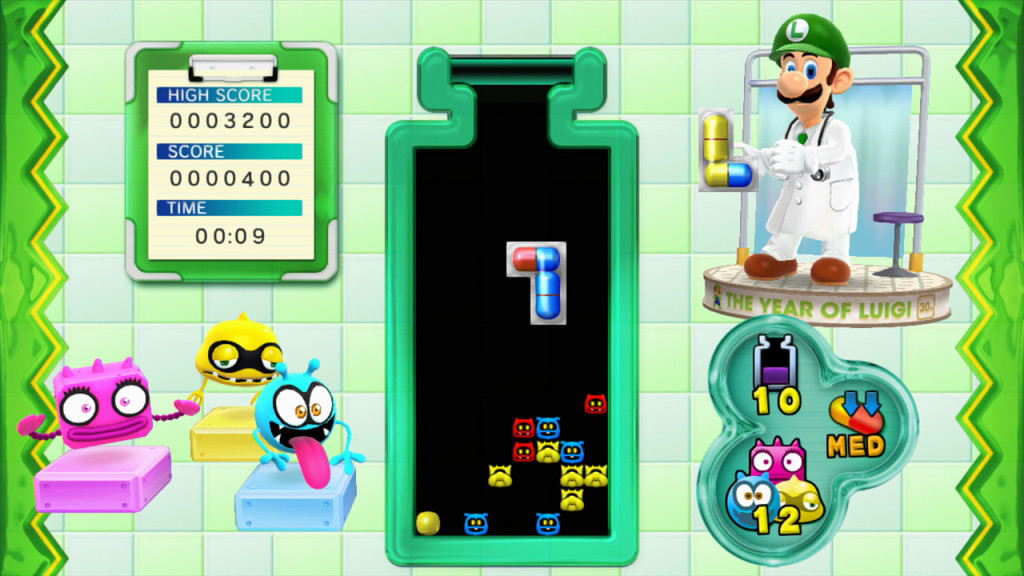 Last week was a weird mixed-bag for me. I lost my news writing job at Game Revolution, which made me sad on several levels. I wasn't writing a whole lot there as of late, but I loved my co-workers. Basically, they had to reallocate the budgets for their websites, and my portion was cut to make way for something bigger. And that something bigger was for the other site I write for, Action Trip, where I received a huge promotion to Lead Writer! I will still be able to write reviews and pitch features for GR, so I'm not totally gone from the site, just from the daily news writing. All in all, it was fantastic news.
Since I am still reviewing games for GR, they tossed two reviews my way that needed a fast turnaround: Dr. Luigi and Age of Zombies for the Vita. I was thrilled to do both.
I was a huge Dr. Mario fan back when it released for the NES in 1990. I played that game more than anything else in my library, always striving to see all of the secret cut scenes certain boards offered. No one in college believed how good I was at that game until they played against me. At first they praised me for it, but then it became a running joke that the only game I could play was Dr. Mario. It was very true, so I didn't fight against it when they teased me about it. When the higher-ups at GR asked if anyone would be interested in reviewing Dr. Luigi, the successor to this landmark game for me, I was ready to knock down anyone I had to in order to claim it. Fortunately I only had to off my boss.
Dr. Luigi probably won't appeal to anyone else who hasn't played Dr. Mario, but I enjoyed it. It's a great game to play while my five-year-old has the TV hijacked. It's about as groundbreaking as every new twist we've seen with Tetris games, yet we still go back to those, don't we?
Age of Zombies for the Vita is a Vita port of the original PSP Mini, but now it has what it's always needed: twin stick support! The game is still overwhelmingly difficult at times (literally overwhelming with hordes of zombies), but it's far more manageable and far more fun than the original. My only complaint? A lot of the humorous dialogue from Barry Steakfries was cut, especially the swearing. I guess they wanted to lower the ESRB rating, but I was still disappointed.
And now that those distractions are complete (both games are really short), it's back to A Link Between Worlds, which is freaking fantastic, I must say. I has the most fun gimmick of any Zelda game I've ever played.