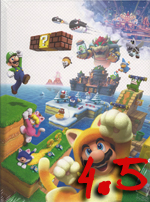 Oh Mario, why do you have to be so friggin entertaining? Yes, the new Super Mario 3D World is a must own game for anyone with a Wii U. It blends nostalgia with new technology and then turns up the fun to 11. With such a bright and fun game, it is nice to see Prima bringing their A-Game with their Super Mario 3D World strategy guide.
After a brief introduction on how the guide is laid out, the authors dive into how the game plays. Anyone that has ever played a Mario game can pretty well skim this section as the mechanics are like meeting up with an old friend for coffee and instinctively picking up your conversation right where you left off. I do recommend stopping by the character and Power-Up/Form section as they do give good detail on how each character plays and what new items, such as the cat suit, do. For those that want to bring friends into the mix, the multiplayer portion will help keep things from getting too crazy!
The bulk of the book goes to the walkthrough. Each stage begins with an overall map of the stage with stamps, stars, 1-ups, rings, and bosses clearly marked. There are even arrows showing how the stage connects and progresses. More exploded views are marked and gone into later on in the section. This made it very easy to see where I was missing a stamp or a star as I made my way to 100% completion.
I found the bosses laid out fairly coherent and easy to follow. There was just enough about the battle described to clue me into any sort of nuances that I might need to look out for, while not breaking down every detail as to take away from the overall challenge
Finishing the guide is a small area containing secrets and some artwork. The secrets are short, but they fill you in on how to obtain the Luigi 8-bit game, new playable character, and some of the Easter eggs scattered throughout. Let's not forget the ever important warp locations and where to haul a shell to rack up massive amounts of lives.
I found that navigation through the guide was fairly easy thanks to the colored side markings on the pages. Each stage is its own color, and so if I wanted to work on world four, I just flipped to the brown/rust colored area and away I went.
Overall I was happy, but there were two things that got to me. First was that some of the maps get pretty cluttered due to the amount of stuff they are trying to show off. Between all the rings, items, costumes, collectibles, and such, some maps look like the cartographer sneezed detail all over the place and was too lazy to clean it up. These are rare occasions, but something to be aware of.
The second issue I have comes with that extra art section. This book is beautiful. The cover is gorgeous, and the typography keeps the pages feeling fun and tie it into the game rather well. The added art area, while a bonus, just felt weak as it is renderings of the Mario cast. I would have loved to see something a bit more, such as painted worlds, artist sketches, or even fan art from a contest. It just felt like this was thrown in to say it was there, but the opportunity to capitalize on it was squandered.
While I understand that Mario games are typically not that complicated, I found Super Mario 3D World that much more entertaining with this guide. Not having to scour every nook and cranny for that one missing star was great. Also, let's face it, this book just looks damn nice on a bookshelf or coffee table. Fans, you owe it to yourself to snag this!
SGR Rating 4.5/5
Author: Alexander Musa & Geson Hatchett
Publisher: Prima Games
Editions Available: Hardcover
Acquired via Publisher