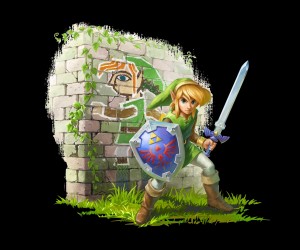 I love The Legend of Zelda games at their core, yet I admit it's a little sad that I haven't finished very many. Thanks to either getting bored or rage quitting, finishing A Link Between Worlds brings my grand total to two. Since I've been told repeatedly that finishing Phantom Hourlgass doesn't count, as that's not a real Zelda game, does this one count? I want it to count, and not because I finished it; I want it to count because it's the most fun Legend of Zelda game I've ever played.
A Link Between Worlds implemented two new ideas very well that eliminated most of the tedium I've found with past games. First, the ability to rent most of the items was one of the best ideas the creative team has ever had. One reason why I get so bored in Zelda games is the repetitive nature of the game. Go to a dungeon, find a weapon, use that weapon to get through the rest of the dungeon, use that weapon to defeat the dungeon boss, and go back all over the world to find uses for that weapon to obtain more collectibles. Rinse and repeat. Since you can rent almost all of the items from the beginning, the world of Hyrule is instantly open to hours of exploration. If you have enough rupees, only two abilities are barred from you after Ravio's shop opens: 1) finding items buried in sand and 2) lifting very large boulders. It was so nice to not have to comb every acre of Hyrule and Lorule numerous times in the name of completion.
The second great new idea was Link's ability to merge into walls as a living painting. Every Zelda game has its own gimmick, and this one was the most enjoyable one. It forced new ways of thinking for solving puzzles, being stealthy, fighting bosses, finding collectibles, and traversing through Hyrule and Lorule.
In an attempt to try to not spoil anything, the fact that the ending is not entirely about Ganon being the bad guy was a welcome surprise. Many probably thought it was predictable, but I never saw the ending the coming. It made me love the game even more.
When I finished Phantom Hourglass, all I felt was relief that I was done. With A Link Between Worlds, I was instantly sad it was over. No, I'm not sad enough to play it again on Hero mode, but I definitely could have played it for several more hours. Now I'm eager to give A Link to the Past another try.