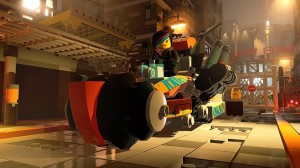 I finished A Link Between Worlds last week, thereby effectively removing any barriers between me and seeing if The LEGO Movie Videogame for Vita is as bad as the handheld games for LEGO have been lately. And the verdict is…it's not as terrible as I thought it would be.
It's still not a typical LEGO game, which is the most heartbreaking aspect for me. Every level is still set up as a list of challenges and it is possible to get a Game Over screen when you lose all of your hearts. Since most of the levels require manipulating Emmet to avoid objects as he careens down tunnels (so many tunnels), this is facet is the most frustrating. I cannot play this game while feeding the baby at all, because the slightest bump from him will force me to send Emmet to his doom.
The few levels that don't spin Emmet down a pit of despair have timers for one of the challenges, thereby killing all desire for exploration. Isn't that half the fun of the LEGO games anyway? The point of it is to get you to replay these levels with different goals in mind. One time you'll try to burn through it as quickly as possible. The next time you'll try to hunt down the red bricks and mini-kits. But oh yeah, have fun trying to find those while flying through burning pits and not bumping into anything. The Fail State makes this game the most unbearable.
All that said, the game isn't as Vita-throwingly frustrating as LEGO Marvel Super Heroes for the Vita was. Yes, I hate repeating this damn vehicle race level for the 10th time, but at least it feels beatable. In addition, the levels aren't so despicable that I won't try to conquer all of the challenges to get the gold bricks.
On the whole, it's disappointing that this isn't a traditional LEGO game, and I really, really hope this isn't the format Traveller's Tales is pushing for future console LEGO games. However, it isn't as bad as it certainly could be. That's the highest praise I can really give it.