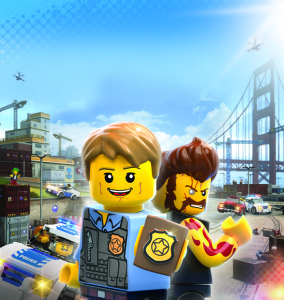 When I bought the Wii U, I bought LEGO City Undercover for my young son since he loves all things LEGO and loves playing my LEGO video games. I had little to no expectations for the game, and I was more than pleasantly surprised; I was floored by both how great the game is and how hilarious it is. After seeing that the 3DS had a prequel for the game, I was instantly intrigued. While Chase McCain's backstory is certainly interesting and the game is fun, it's not half as great as the first game. Yes, it suffers from prequelitis.
The Chase Begins' biggest flaw is how it copies the gameplay from the first game. As Chase goes through the first game, he has to learn several jobs to stay undercover, such as becoming a firefighter, an astronaut, and a construction worker. Chase learns the exact same occupations in The Chase Begins. If he already knew these jobs as the prequel suggests, why would he have to learn them all over again? I was hoping Chase would learn different jobs, or maybe it would introduce a completely different style of gameplay. Since it's a prequel, why wouldn't it?
As it's a 3DS game, the dialogue is minimal at best. The best parts of LEGO City Undercover were the dialogue, so most of the humor is completely absent. When there is talking, it still has that zing, but there's not enough to really label the game as funny as the first.
That said, none of this stopped me from completing the story and running around all of LEGO City to complete every single ridiculous mini-game and collectible. Some of that is from my sickness when it comes to completing LEGO games, and some of that is the fact I did have a bit of fun. However, I doubt I would have had fun with the game if I didn't have LEGO City Undercover as a backdrop in my own database. Those who haven't played the first game should overlook this one entirely.