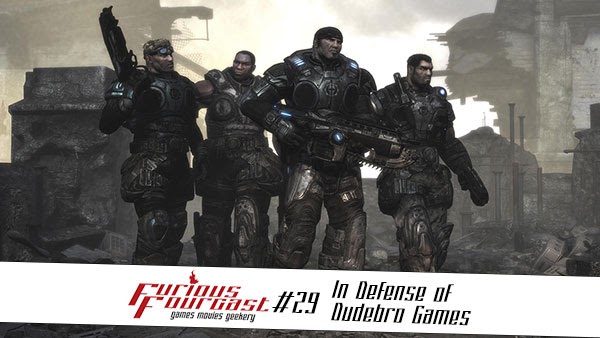 As I'm sure you've read me saying numerous of times, I'm on a weekly podcast with a few other SGR writers, The EvilCast. Just ignore the fact that we're a podcast on a website that isn't exactly functional anymore. That isn't the point. The point is that the four of us still get together on a weekly basis to yell at one another over the week's gaming industry news. If that isn't a sign of BFFs, I'm not sure what is.
In addition to the EvilCast, I participated in two other podcasts last week. I'm still exhausted.
The first podcast of the week was the Power Button podcast with MattG (occasional writer here) and Blake. We discussed games we find ourselves binging on, whether it's during severe downtime or just for pleasure. I'm sure all of you know which games I talked about the most.
Next up was the Furious Fourcast with Scott Grill, Max Parker, and Jen Bosier. Topic of the week–defending the dudebro. Over the last couple of years, Jen and I have noticed several negative nancies slamming the "dudebro" games for whatever reason. What's worse is that many of them are bashing games they haven't even played and know nothing about. And of course there are some who disdain the dudebro because it doesn't appeal to their artistic sentiments. That's fine, but to each their own, and we set out to discuss why we love the dudebro so much.
I had a lot of fun podcasting with these folks, but damn that was hard on this introvert. Plus, it really cut into my gaming time. I only had time to finally nail down that platinum trophy in The LEGO Movie Videogame!
Give these episodes a listen, and if you like them, subscribe to their podcasts. These guys put out great content for your ears each week.