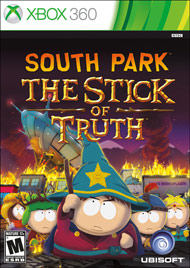 I was looking forward to South Park: The Stick of Truth since it was first announced, and my excitement for it was only enhanced when I saw a live demo at San Diego Comic Con in 2012. I was honestly afraid that it wouldn't live up to the hype, especially after my disappointment with BioShock Infinite. Ten minutes into the game, I knew I was going to love it. That love never wavered for a minute.
I reviewed the game in full for Action Trip. Here's a snippet of my thoughts:
Ten minutes into playing South Park: The Stick of Truth, I'm looking over my class selection which includes a Jew and wondering why I thought I could give my character any other name besides "Douchebag." This is South Park; of course I'm going to be called Douchebag. That's me, Douchebag the Jew. My character is wielding a shepherd's crook and wearing a yarmulke. Kids are yelling more f-bombs than I think I heard in Spec Ops: The Line, if that's possible. Cartman is teaching me how to "cast spells" a/k/a fart on dummies.This is South Park, and if you get offended easily, just walk away now. Like the TV show, this game isn't, and never will be for you. And that's just the start of how wonderful this game is.
When I finished South Park: The Stick of Truth, I was honestly sad it was over. I usually get to a point in games, no matter the length, where I'm ready for it to be over already and I never got there with this one. I put off the final battles for so long, making sure I really and truly completed every last available side quest.
The game had its problems, such as responsiveness with some of the controls, but it never took away from my enjoyment. I said in 2012 that this would be the game of the year whenever it released, and two years later, I'm still holding that claim.