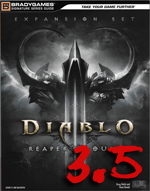 Diablo 3 released with plentiful hype, and copious amounts of issues. Thankfully, the Reaper of Souls expansion is a vastly different experience. This expansion feels like a completely different game thanks to the removal of the Auction House, better loot, Paragon skills, and many tweaks to the game itself. Those that have given up on this series might want to take a second look, and the Diablo 3: Reaper of Souls strategy guide from BradyGames is a great place to start.
This guide contains a bit of information for all players, new and old. It begins by detailing the newest sets of changes, such as difficulty settings and the two different game play types. Those that have continued to support Diablo 3 can pretty well skip this area, but new, and returning, players will want to read this section.
Following the basics is the class portion. What I liked about this is that I could finally read up on the Crusader and get some insight into how it plays. Every active and passive skill is listed, complete with what level it unlocks. It provides a small description of what the abilities do and why one might want this in their build. I must admit, this did give me a few ideas on how to tweak my Monk as I drive to level 70.
The actual breakdown of Act V comes next. I found that this covers the new campaign in good detail, with solid nuggets of advice on how to tackle each objective. It is also a blessing to know how many enemies will bombard me, such as three waves of Boggits swarming me as soon as I load into the next area.
What I appreciate the most is the details on the boss fights. Where Diablo 3 contained bosses that primarily just sat in one location during the fight, Act V sees a major increase in boss difficulty with the simple act of environmental hazards and the enemy hunting down the Nephalem in particular. The boss battles are broken down in fine detail, and should be on the radar for all readers as these just might save a broken mouse and keyboard.
The walkthrough of Act V might seem tiny, but the last half of the strategy guide goes to a massive amount of info on all the extra portions of the game. Items such as Nephalem Rifts, Bounties, crafting, maps and how portals connect the world together, and even a massive index of enemies all receive their fair share of attention. What new players, and those that are just coming back after an extended vacation, will want to do right away is check out the Loot 2.0 area. Why BradyGames tucked this away so far in the back baffles me as it plays a major role in why the Auction Houses are now gone and why the game has garnered a resurgence in players.
The Loot 2.0 chapter goes into how the new item system works, what smart loot is, how magic find changed, and even why there is now only one potion. For any player that has no idea what happened with this system, this is a must read while the game patches.
The last few pages go to all the achievements and skill challenges in the game. I love this, as it is way faster and easier to find a way to add to my banner customizations instead of clicking through all the acts in the game. Some of the harder to obtain items even have small bullet points giving pointers on how to obtain them. For someone with OCD, such as myself, this helped me nail down a few achievements I had overlooked in prior acts.
For all the nice things this strategy guide provides, there is one thing it cannot do, and that is adjust with patches. While reading the class or enemy area, take the cool down, damage, area of effect, and other figures with some caution as they might change depending on patches. Also, this won't cover any new play areas that Blizzard might introduce down the road.
The Diablo 3: Reaper of Souls strategy guide is a great guide, especially for people that might be returning to the game. For players that have stuck through Blizzard while they ironed out the kinks, outside of the Act V walkthrough, there is not a lot here that will really warrant the purchase. Find this at the local store and thumb through it to see if it applies to your needs.
SGR Rating 3.5/5
Author: Doug Walsh & Thom Denick
Publisher: BradyGames
Editions Available: Paperback
Acquired via Publisher