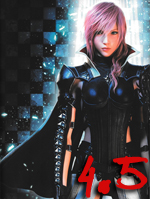 Lightning Returns is an utter mess of a game that pits the player in a race against a friggin' clock to save as many people as possible before the world ends. There are two ways to save souls–via the main story and via completing side quests. In other words, you want to complete as many side quests as possible. The catch is some side quests are only available certain times of the day, or the ability to complete them are only available during certain times of the day. Some only crop up after completing other side quests or elements of the main story. So not only are you battling a countdown, you're battling against time itself. To say this is overwhelming and a bit frustrating is the understatement of the year. I don't know how the writers for the Lightning Returns strategy guide were able to compile a guide of any sort from this discombobulated mess, but somehow they were able to, and they crafted the best companion to help anyone save as many souls as possible as efficiently as possible.
The only complaint I have with this strategy guide is that when you open it, see how it is organized, and see the game plan before you, it overwhelms you. Considering that the game itself has this mound of pressure on you to begin with, the guide initially stressed me out. Virtually every hour is planned out, leaving very little room for time errors. If you don't know what you are doing, it feels impossible.
After spending half an in-game day trying to work things out on my own, I began to understand how the strategy guide was framed, what I needed to do, and how I needed to approach each task. Sadly, because I took this time, I've had to pick and choose which side quests I can get done in the time I have left. As such, I really think this strategy guide is best for a second playthrough, after you already have your feet wet and know how the game works.
It sounds like I'm blaming the strategy guide, but I'm really not; the strategy guide did the best it could with what the game gave it.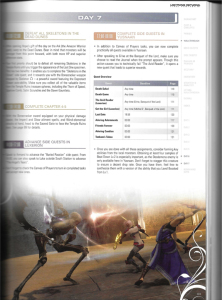 Usually with large RPGs like Lightning Returns, strategy guides are divided up into main quest and side quest sections. In the Lightning Returns strategy guide, a daily agenda section sits before the main and side quest chapters. It requires a lot (and I mean a lot) of page turning to use the guide, but there really is a method to the madness.
The agenda is literally a detailed itinerary for what the player needs to make Lightning work on for each hour. For instance, Day 5 has the following agenda:
Advance the "Free Will" Quest in Yusnaan
Complete Chapters 4-1 and 4-2
Complete Chapter 5-6
Complete Chapter 4-3
Resupply in Ruffian
Complete Chapter 4-4
Each bullet point has the recommended hours to get these things done. For the side quests listed on each day, the times are often important, because those quests may only be accessed or completed during those times. As you can see, that's a lot to get done in one day, and it appears very out of order. The only aspect that is really in order in this game is the clock, so anything can be completed at any point in the game if the in-game time is right. (Yes, the game is that maddening.)
The reason why the strategy guide breaks the main quests up like this is so the player can efficiently complete as many quests, side and main, with as little travel between realms as possible, as travel costs time.
With the itinerary, you plan out your in-game day, and then you use the other two walkthroughs for assistance in completing those quests. I didn't use the actual walkthroughs as much as I used the maps. The maps will save you so much time and grief from running around everywhere trying to find that one last crag mole for that chef. This woman lost her dog while traveling. Do you really want to run all over the place trying to find this dog? Yeah, I didn't think so.
In theory, it is possible to complete everything the guide lays before you, but I'm not sure how possible it is when you're completely green at the game. The game has an incredibly steep learning curve thanks to the darn clock and learning how to effectively use Lightning's abilities to manipulate the clock. If I could have done it over again, I would have started a game, ran around like a maniac for a day to learn the game and then started over with that veteran information. But then again, that would require me to play the game again, which reflects on the game, definitely not on the strategy guide.
But if you do want to do everything Lightning Returns has to offer, want to save every soul, get the fast track on the Canvas of Prayers, and make your god happy, then I can't imagine doing so without the assistance of the Lightning Returns strategy guide.
SGR Rating: 4.5/5
Authors:James Price and Tony Gao
Publisher: Piggyback
Editions Available: Collector's Edition and Paperback
Acquired via Publisher