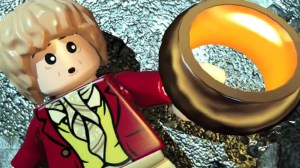 I have a week off before my next video game review for work. That nagging voice in my head says I should probably get back to Lightning Returns and attempt to finish it, but the devil on my shoulder (or perhaps it really is an angel) points out that I should get LEGO The Hobbit to 100% since I've already started it. And I just can't argue with that shoulder entity. She is quite wise.
I finished my evil playthrough of inFAMOUS Second Son last week as well, which was depressing as hell I have to say, and my gaze immediately went to my copy of Lightning Returns on my desk. "Come on, you know you have to see just how awful this game is in the end," the shoulder demon whispers. "You have to say you know how it goes, so you can have educated hate. You went and bought the Collector's Edition because you're an idiot, so get your money's worth out of this game."
Then my angel appears and says, "But don't you want to finish what you start from now on? Don't you dare abandon LEGO The Hobbit. And while you're at it, shouldn't you complete the Paper Trail DLC that was FREE for inFAMOUS Second Son? See, you can't say you're really finished with that game, even though you've played both Good and Evil."
They both make such excellent points. I really should complete LEGO The Hobbit to 100% and the Paper Trail DLC for Second Son while I can, as I have four games to review in the next few months. Or wait, I think that's five. Then July should be completely barren for Lightning to take over. I'll make myself miserable for my birthday month. That sounds like a good plan.
This may sound ridiculous, but the thought of not playing it through when I spent that much money on it drives me more insane than the thought of playing a game I don't find fun. I never said I was rational, logical person.