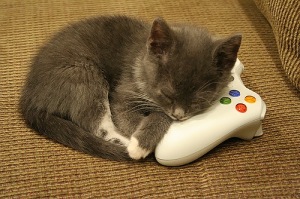 May may be my absolute craziest time of year for reviews, and I don't have any strategy guides to review! Not sure what is up with that (I'm looking at you, strategy guide publishing companies) but I hope to get some more announcements when I harass them all at E3 this year. I will make super special time to bug everyone about summer and fall releases. I love them way too much to not do so.
But in the meantime, I'm up to my eyeballs in games to review. Last week I was up to my eyeballs in RPGs. Next week it will be randomness. At least I have this week off to, uh, sleep? Or something like that.
Last week I reviewed Child of Light and Bound by Flame, both of which I liked for very different reasons. CoL is one that I can easily recommend to many, many people who love RPGs, while BbF comes with several disclaimers. I really liked it, but you should be aware that…etc.
Even though I liked both games, I really don't want to review back-to-back RPGs ever again. That was way too much in such a short period of time, and I'm too old to handle so little sleep these days. Today I'm going on 3 hours sleep thanks to a teething baby, and I'm already daydreaming of that special nap time I hope to take but probably won't get to.
Next week it's Nazi killing (hooray!) and another strange RPG from SuperGiantGames, Transistor. At least both should be fairly short. Shooters typically are, and if Transistor is like Bastion, it should only take 6-10 hours to complete. That's a perfect way to swing back into reviewing a strategy guide for a massively large open world, right? Just before E3?
I suppose I'm never sleeping again.