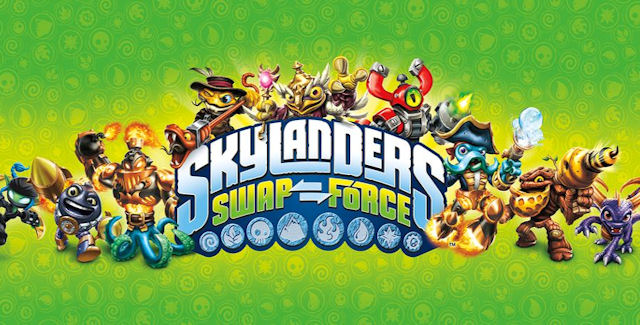 My eldest son's sixth birthday party was last weekend with all of his friends, but my in-laws really wanted a family party, so they invaded over the weekend while my parents were also in town to throw Gabe yet another birthday party. His real birthday hasn't happened yet, I must add.
One of the gifts he received was Skylanders SWAP Force, a game he really wanted because well, Skylanders. I knew nothing about the game as I have avoided it entirely. He has friends who have the game, so naturally he has seen it and heard about it every now and then. Every time we've gone to Toys R Us to buy a birthday present for one of the thousands of parties we have to go to, he always asks to just go look at the Skyanders.
Now he has the game and three starter Skylanders. Since he can't read yet, I had to help him start up the game, and I folded laundry while watching him play. He was having an absolute blast. One thing I'll say about Skylanders over Disney Infinity is that the game allows and encourages players to swap out the Skylanders whenever you want. If you swap out characters playing Disney Infinity and you aren't in the Toy Box mode, it shuts down what you're playing and switches modes, since each character has their own play arena. For a little boy, that's hard to stick to just one thing at a time, especially when you have other toys you want to play with.
While I watched him play, something disturbing happened to me. I started to want to play Skylanders SWAP Force too.
The game is brilliant in so many ways. There's combat, exploration, and unlockable exploration that requires certain abilities or certain Skylanders, which of course forces you to buy more toys if you want to get through those area. It's absolute genius.
I'm actually looking forward to watching him play tonight. He still hasn't gotten the concept down that he needs to break things to earn more money, but I think this is the perfect game to teach him how to loot.
Oh and I played and finished Wolfenstein: The New Order over the weekend. But more on that later.