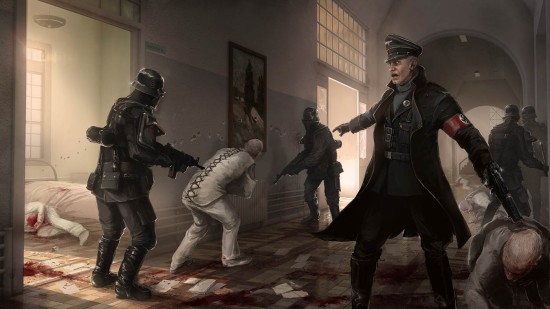 I haven't played a Wolfenstein game since Wolfenstein 3D back when I was in college. And when I say played, I really mean watching my boyfriend at the time play it with his friends. I was into Doom II and couldn't be bothered with petty Nazi killing. I don't remember much about the game except for mecha-Hitler, red dots filling up your screen when you got shot (it was the best they could do for blood spatter back then), and opening a door to see a massive Nazi with a chaingun waiting for you, right there behind that door.
Even though I wasn't a die hard fan of the franchise, I was still super excited about Bethesda and Machine Games' reboot of the series in Wolfenstein: The New Order. The game was a delightful combination of incredibly dark and depressing themes (it is set in an alternate reality where the Nazis win WWII, so not much to be happy about there) and silly reflections. For example, hero BJ Blaskowicz never really stops talking to himself about what is going on during his missions. Sometimes it's super cereal, sometimes it's really dark reflections on his past, and sometimes it's hilarious commentary on what is going on around him. And then there are the glorious Easter Eggs for Wolfenstein 3D.
I reviewed the game in full for Action Trip. Here's a snippet of my gushings.
As silly as a lot of the game was in terms of plot devices and Easter Eggs, it was balanced out incredibly well with the horrors of Nazi atrocities, something the developers did not spare the players from witnessing. You may laugh at one minute, but the next may find you with your hand covering your mouth in shock. In this balance, the next iteration of Wolfenstein was executed extremely well, giving it a fun combination of a serious first-person shooter without forgetting its roots or how absurd typical set pieces for first-person shooters are.
Yes, I absolutely loved it. the shooting mechanics were smooth, the perk system added a layer of depth that helped me tailor the game to how I wanted to play, and the fact that you can make a choice that alters your game's story was a nice surprise. Just…just don't expect it to be the happiest story in the world. And from what I hear, don't try to play it on PC.
And if you want to see me absolutely suck at playing games, check out my first run through the Wolfenstein 3D Easter Egg.