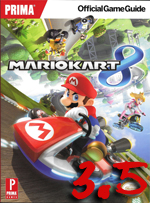 If there is one game worth putting a Wii U on the "Must Buy List", I'd have to admit that Mario Kart 8 is that game. The amount of fun I am having with this title is ridiculous. Heck, it even brought on a rash of Luigi Death Stare videos. For kart racing fans new and old that, it's time to practice your best drifting skills while checking out the Mario Kart 8 strategy guide from Prima Games.
The guide starts with all the basics, and this is one stop everyone will want to take as the controller breakdown is here. This game allows for five different control schemes on three controllers, which can be daunting if you're trying to figure out which setup is best for you. After that, it is all about the mechanics of the courses. Things such as boosting, gliding, the new hover mode, and item descriptions find blurbs here. What really impresses me are the charts detailing what the chances are of acquiring a specific item depending on race position and game mode. This is something I still come back to study as I try to work on my online score.
Once the basics are done, it's onto the racers, karts, and kart customizations. Characters have small descriptions that give readers an idea of how that person will behave on the track. This also includes all the unlockable drivers. No Stig wannabe is complete without a killer ride, and this is where the kart area comes into play. I enjoyed seeing all the options I would have available, and it made me want to play more just so I could unlock a specific tire to go with my Wild Wiggler kart body. Of course all the bodies, tires, and gliders contain stats on where they excel and where they lack in performance or handling. If nothing else, this is just a fun area to look at and play master designer while eating a bowl of cereal.
The bulk of the guide goes into the races themselves. Tracks are broken down by cup and then by new or old course. Each stage begins with details on what to watch out for, such as no guardrails or obstructions on the road. Complimenting this is a suggestion on what the best racer and kart setup is. From there the track is then handled by Grand Prix more or Time Trial mode, both with correlating maps depicting the changes based on mode.
This is the area readers will want to pay attention to the small snippets of info. Those that are having a difficult time beating a specific stage will find where shortcuts are hidden, where the best points to boost are, and if it is worthwhile to glide a long distance or just land quickly to obtain a coin or item box. While nothing a book says can improve skills on the track, it is nice to see where the shortcuts are so I don't look like a fool bouncing off something that I thought was an advantage, but was merely a fence….or worse, the ledge to the pit of doom.
The last few pages go to the battle mode and the maps correlating with it. Those who want to collect every stamp the game has to offer will also find a full list of those so you can keep track of what is left to collect.
My biggest issue with the Mario Kart 8 strategy guide is the navigation of it. I find it would have been useful to color code the sides of the pages to match what cup they were focused on. I spent too much time flopping around trying to find a specific cup, and then hunting down the track on top of that. It's a small gripe, but one that would have made things easier on the reader.
To those who are just starting to consider jumping into this fun racing world, well, just buy the Mario Kart 8 strategy guide. Sure, your spot on the leaderboard will still depend on your ability to master the fundamentals, but you'll be well ahead of the curve in knowing each track and how to tackle it. Even if it is as simple as picking the suggested character for a course while you unlock everything, this guide is well worth the investment. I think it's time I go give more people that Luigi Death Stare!
SGR Rating 3.5/5
Author: Alexander Musa
Publisher: Prima Games
Editions Available: Paperback
Acquired via Publisher