I had an absolute blast at E3 to say the least. I was incredibly busy, and if you want to see most everything I saw at the show, my boss at Action Trip has compiled a nice list that I believe he is still updating as he adds more of my previews.
One thing that did happen at E3 that I did not expect was excitement about games I previously had zero interest in. A few I was able to either play at the show or see at an appointment, but even those I did not still had me pumped.
Sunset Overdrive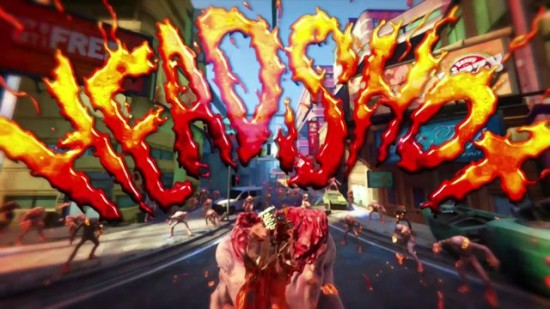 I'm a fan of Insomniac Games. While I never played any of the R&C games because, well, platforming, I greatly appreciate what Insomniac did with the franchise. I also loved the Resistance series and I was one of the few who loved Fuse. However, when they showed off Sunset Overdrive last E3, I was less than impressed. Oh yay, another zombie-apocalypse-like shooter that just has brighter colors. Another Resistance that has more than brown in it. Yeah, the Microsoft press conference showed me just how wrong my assumptions were.
Upon seeing the very first word effect in the trailer, I knew I had to have this game. I love it when a game incorporates this type of humor and is willing to make fun of itself. It may be another zombie-apocalypse game, but at least it's one that has humor AND bright colors.
Assassin's Creed Unity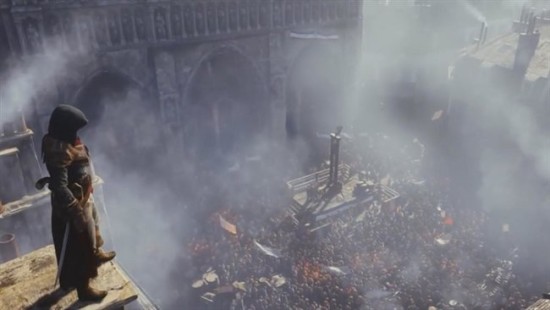 I have sworn off Assassin's Creed after my horrific experiences with both Revelations and Assassin's Creed III. I couldn't finish Revelations due to pure boredom, and my copy of AC3 was so broken, by the time they fixed it, I stopped caring. I didn't even attempt Black Flag after I heard about all of the sailing, as I loathed that part the most in AC3. So yes, I was ready to be very against Unity prior to E3.
And then they announced co-op gameplay, bringing the multiplayer-style play that I originally wanted when they announced multiplayer for Assassin's Creed Brotherhood.
Not to mention, all of the crowd elements that they've incorporated for you to use as you see fit…to use as a distraction or to complete side quests…it's completely mind boggling and I must play it.
Just as I get out of AC entirely, they rein me back in! Curses!
Far Cry 4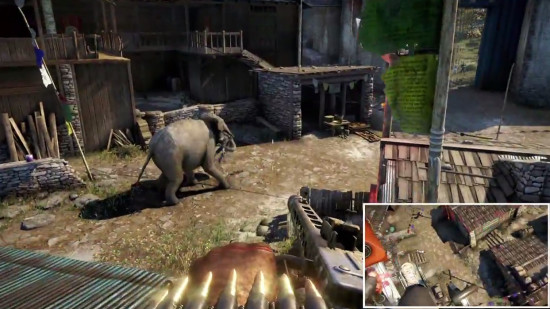 I never played Far Cry 3, and I never really wanted to. I heard great things about it, but I was afraid it was more about stealth than anything, and I would of course masterfully fail. I knew a Far Cry 4 announcement was coming at E3, but I didn't expect to have any interest in it at all. What did it? Well, two things: 1) co-op play and 2) the ability to ride elephants.
I love the idea of playing the game along with a friend to help with a mission, and wait, you can ride elephants to wreck shit? Oh sign me UP.
After playing the hands-on demo on the showroom floor, now I really want to play Far Cry 3. Not sure when I have time, but I'll have to try to figure it out somehow in my schedule.
Call of Duty: Advanced Warfare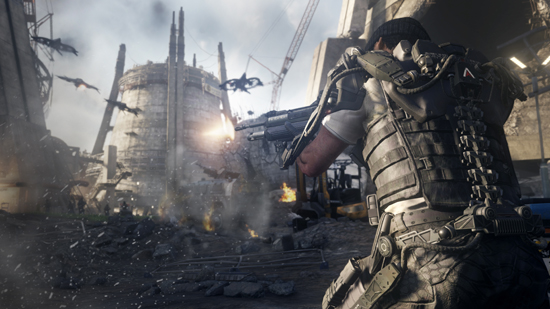 Here's another series I feel that has been played to DEATH over the course of several years. I haven't been back to CoD since MW3, and I wasn't planning on it anytime soon. Thanks to E3 pressers and my appointment with Activision, I see so much potential and, well, FUN. For the first time since probably CoD III, the focus appears to be back on the single-player campaign, which of course makes this story gamer really happy.
I'm a little nervous about the stealth-only portions they showed, but hey, BradyGames confirmed at E3 that they will publish a strategy guide for it. Hooray for stealth hand-holding! This chick needs it badly, like a wizard needs food.
Middle-Earth: Shadow of Mordor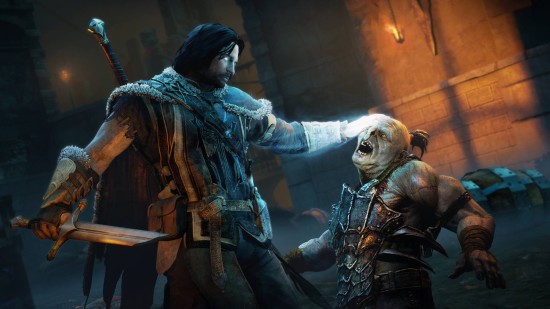 An action-RPG that takes place in the world of LOTR? Snoozefest! No matter how many great news stories I read and had to write about, it took seeing it at the show to get me pumped up about it. I now see the potential that the game has and I'm eager to get my hands on it and see how many awful decisions I make.
The crux of the game lies in two places: 1) the decisions the player makes and 2) procedural generation. Everything is procedurally generated, and I mean everything. The NPCs, the bosses, the maps, it's amazing how much different your game can be compared to someone else's. During the demo, the presenters said they hadn't even had the same demo all day long, and I saw it in the late afternoon, after several presentations. That's insane.
On top of it all, you can play the game how you want to, whether it's stealth, action, or a mix. It's a fantasy RPG that should have my name written all over it. I just hope they don't screw up Tolkien's world too much, even though the game takes place centuries after Return of the King.