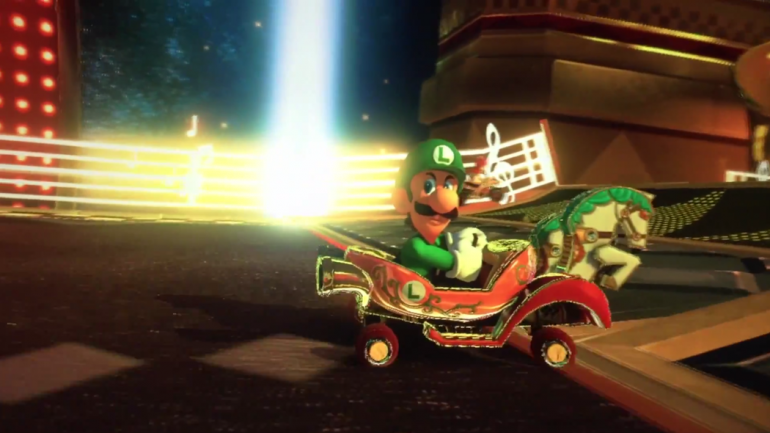 No, you're not hallucinating when you see the diary for this week is not by Keri. Keri is probably trying to calm down before she starts the madness that is E3. I'm sure she will have a blast and accomplish many great things, but that doesn't diminish my envy. I am looking forward to an abundance of text messages about games I want to see, but enough about her!
I recently picked up Mario Kart 8. I mean, the Wii U receives so few titles that when something as hype as this is drops, it is almost an instant must buy. I was cautious and so I watched a few of the launch party streams on Twitch before I bought the game, which is becoming a new trend for me. I can honestly say, this is some of the most fun I have had in this series. It's bright, it's colorful, there is FINALLY a way to combat that friggin blue shell of epic frustration, and it is just a darn good time.
There is one thing about the game that is a bit disturbing, and that is the recent discovery that Luigi has some serious anger issues. Just jump on Twitter and search for #LuigiDeathStare and be prepared for loads of videos and memes revolving around the look that Luigi gives after he destroys someone with an item. It is almost freaky to see the fun loving plumber of my past sport a look that would scare the likes of Hannibal Lecter. I know it is the year of Luigi and all, but should Mario be concerned for his safety?
The fact that this is now a trend on social media proves a solid point. The point is that Mario Kart 8 is one game that has managed to numb some of the complaining and hate on the Internet and replaced it with excitement. It has been a long time since I've seen people have this much fun with a game, and it is a welcome change. Sure, us Wii U fans might be small in number, but we also have a blast with our games! Wait, is that my Wii U turning itself on? I MUST PLAY MORE!