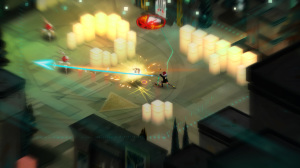 It has been an insane last couple of weeks for me, review-wise. I put out two game reviews last week, and I'm fervently working on one more before I head off to LA. The second game I reviewed last week was Transistor, a game I had a lot of high hopes for after loving what I saw at PAX East in 2013.
I'm not sure if it is because this is the second depressing game I've played in a row or what (Wolfenstein was so depressing), but Transistor didn't resonate with me at all. I get that the story was supposed to be "told" in a manner where the player had to piece the puzzle together, but when it was all spread out before me, it fell flat. The gameplay didn't do it for me, the story didn't do it for me, and I really wasn't happy with how linear it was with no side questing options.
Here's a bit more from my review on ActionTrip (ignore the hateful comments…or jump in, whatever):
The gameplay is quite fun at first, but near the end, you know what the magic combination is for the last few enemies, introducing a strong level of monotony. It's briefly interrupted by the final boss, but it doesn't take long to figure out how to crack his code either. The emphasis in the game is obviously on the art direction, story, and overall presentation, with which I'm normally just snazzy, but this time, I needed more with the gameplay, even if that meant side quests or seeking collectibles. Keeping the path so linear with relatively simple gameplay did not make me eager to continue my gaming sessions; it only made me want to get to the end sooner.
At least the game's visual and audial effects were quite aesthetically pleasing. You can't help but be mesmerized by the beautiful, painting-esque art style and the dulcet tones of Darren Korb's melodies. The sword provides all of the dialogue, save for a few of Red's songs, and his narration fits in with the flow of the game better than any other narration attempt I've heard with a game. He's never overbearing, annoying, or that repetitive, and unlike some narrators or talking heads in games, he knows when it's best to keep quiet. Most importantly, he knows how to make subtle suggestions that maybe you've already gone this way before or you've been dallying one area for too long without making the player want to duct tape his mouth (if swords had mouths).
I know I'm vastly alone in this opinion, and I'm okay with that. I didn't like BioShock Infinite either, and I was really alone in that too.
Well, we can't agree on everything, or how boring would the world be?