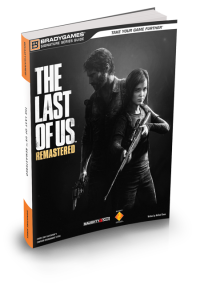 It HAS been awhile since we've done a Free Guide Friday, hasn't it? It's been quite the desert in strategy guide releases since about April, but we're slowly coming out of the drought. Trust me, this fall is going to be absolutely insane. It's going to be so wonderful!
But what's going on right now? The Last of Us Remastered releases next week, July 29th, and BradyGames has published another strategy guide just for this edition. The guide includes all of the first strategy guide for that dirty, PS3 version, and for the first time, all of the DLC will have a BradyGames-quality strategy guide as well! It's the ultimate collector's item for a fan of The Last of Us.
BradyGames has kindly offered one to us to give away, and if you are interested, here's the scoop on how to do so.
This contest will be on the website only. No Twitter, no Facebook, it's all right here, and entering is very simple.
US contestants only, please.
Comment on this post saying exactly why you want to play the remastered version of The Last of Us. (I'm genuinely curious.)
I'll randomly draw a winner at noon on Friday, July 25th and I'll announce the winner in a comment on this post. So be sure to check back tomorrow!
Have fun and good luck to all!