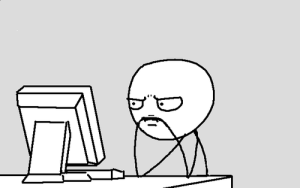 So this was a fun experience and a half.
I decided to switch hosts after I turned in my two-week notice at one of my contracting jobs. SGR's host was with that company, and I decided it would probably be best if I took SGR with me while I already had access to all of the administration side of our host servers. Better to do it on my terms than to deal with a rush job, right?
After my experience this week, I am so glad I decided to do this on my schedule.
I honestly thought this could be done over the weekend, but what I didn't count on was slow upload speeds from our internet service provider, a wireless network card that was wonky, and the size of SGR. These are all mistakes I will do my damndest to never make again.
I don't want to switch hosts again, but if I have to, at least now I know a bit more what to expect and how to circumvent it. But seriously, I never want to switch hosts again.
At least I chose a decent time to have some downtime. It's a holiday week and it's the summer doldrums. We won't really have anything new to review until September, although I'm hoping for a Reaper of Souls console-edition strategy guide from Brady Games in August.
I am also sad to say I have made absolutely zero progress on Dragon Age: Origins. First I had to review Valiant Hearts, and then I got very, very sick, and then I decided maybe I should stay up to work through my book reviews that I've neglected instead of playing games. I know, I'm full of excuses. Since I'll be down one job next week (hooray!), that should mean more gaming time, and hopefully I'll play more than just Bravely Default. It's so hard to not play that game sometimes. Oh you guys want to eat dinner? The dog needs to be fed? I haven't showered in three days? Sorry, busy job grinding. It's not that bad, but I can't tell you how many times I've sat down to play for just a few minutes and the next time I look at the clock, it's after midnight.