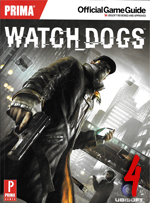 The world of Watch Dogs is a pretty big place. Start wandering the streets of Chicago as Aiden Pearce and it won't be long until a compelling event draws the player's attention. It could be a main story mission, it could be a side mission, it could be a mini-game that does it. It could be one of the mysterious investigation prompts scattered all over the city. It could be an online invasion or a digital trip. There's so much to do in the city that it's easy to become overwhelmed and a bit disoriented. How does one cut through all of the dazzle to the heart of a mission? Prima Games has put together a surprisingly detailed strategy guide for Watch Dogs which outlines not only every main story mission, but all of the extra side material as well. It may not be necessary for everyone, but the Watch Dogs strategy guide can be an indispensable companion to those who use it properly.
I wanted to explore Chicago on my own terms and at my own pace, so I made it a point not to over-rely on the strategy guide. I wanted to be surprised by every trick and curve the game tossed my way, so my method was to attempt a mission, feel free to fail it a few times, and only turn to the strategy guide if I was absolutely stumped. The first time I flipped open to a trouble spot, I was immediately impressed by the writing structure. The instructions don't just outline how to complete a mission, they are presented in multiple play styles. Where applicable (which is most of the time), there are a variety of ways to complete a task based on the player's preferred method. Do you go in guns blazing? Would you rather sneak around in the shadows to dodge enemies? Maybe you're more the type that would rather climb up high, look down on the area, and remotely control the objects down below. No matter how you want to progress, the strategy guide lists a detailed set of directions for each mission and notes the approximate difficulty of each method. I was impressed by the attention to detail, and most of the book is made up of this section. Naturally there were parts of each mission's guide that I did not use since I had to choose a method and see it through to the end, but I would rather be overprepared than underprepared.
There's more going on in this strategy guide than just detailed directions. There's a handy chart of all of the drivable vehicles in the game, a list of all key hacking locations, a guide to the online contracts mode, a set of basic tips for controlling Aiden, overhead maps of key areas marked with helpful icons to identify useful items and vantage points, and appendices listing available experience and skill points. Essentially, this strategy guide blows the game apart and details everything you'd need to know to take Chicago by storm. There's even an access code included to reach the online ebook version of the strategy guide that is updated as new downloadable content and patches are released.
It's difficult to criticize the strategy guide for its informational content, but I do have an issue with how it's presented. There's so much information packed within the strategy guide, so much splashed on to every page, that it's difficult to find the exact mission I needed help in completing. I spent more time turning pages than I did actually reading them. Worse, when trying to pinpoint exactly which page I needed, I often overshot my destination and ran into spoilers. There are color tabs printed on the side of the actual book to give a quick guide to which section of the book is where, but all of the main mission pages are noted by the same yellow color. I'd have preferred for the mission pages to be further denoted by different colors for each act so I wouldn't accidentally stumble across a major story point beyond where I intended to read. It's a small problem, admittedly, but what good is information if I can't access it easily?
Overall I found the Watch Dogs strategy guide to be highly useful if a bit difficult to locate what I wanted to know quickly. That said, with so much to do and so much ground to cover, it's helpful to have a printed co-pilot offering advice when needed.
SGR Rating: 4/5
Author: David S.J. Hodgson
Publisher: Prima Games
Editions available: Paperback and Hardcover Collector's Edition
Acquired via publisher