Sorry, you're going to hear/read a bit more Diablo III awesomeness from me. I was tasked with reviewing the Ultimate Evil Edition of Diablo III, which released ten days ago, bringing the greatness of D3 to the new gen consoles. Since one member of our D3 team doesn't have a PS4 yet, I didn't import my Demon Hunter from our game. Instead, I reviewed the game with a member of the new class, the Crusader. It took a long time for me to like the Crusader, but once I hit a few skills that freed up my Crusader's strategies, I was all in.
Like the Barbarian class, the Crusader class is very slow to amp up, but once the class hits its stride, it's hard to not fall in love with it. The Crusader is more than just powerful; the class is more versatile than any other class I've tried in Diablo III. With the Crusader, you can opt to get in your opponents' faces like a Barbarian or a Monk, or you can adjust the skills for long distance attacks like a Demon Hunter or Wizard. My personal favorite of these was the ability to throw and bounce the shield between enemies. I was Captain America-ing it all over the place.
Aside from the Crusader, there were far more differences between Diablo 3 and the Ultimate Evil Edition than I was prepared for. The difficulty levels were changed, there's a new Adventure Mode that's perfect for level grinding and short bursts of play, and the enemies generation was also changed to make even the lowest difficulty setting a bit more difficult. I really liked how it all changed, especially the new Nemesis system, where mini-bosses who kill your friends will invade your game.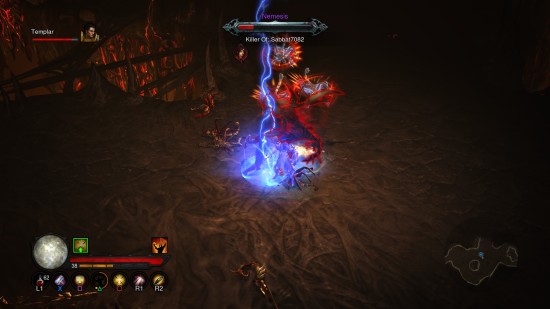 And yes, I loved pretty much everything about Act V, the actual expansion part of Diablo III.
As far as Act V goes, it was delightful to play in a different area for once after replaying New Tristram, Caldeum, and Bastion's Keep more times than I'd like to count. Story-wise, two things made me smirk:

the wrap-up of the companions' stories, particularly Kormac's feelings for Eirena; and
how the story opened the door for a Diablo IV, because seriously, there's going to be a Diablo IV.

Usually, finite wrap-ups of a story with pretty little bows irk me to no end, but for some reason, this time, I found it all rather sweet. These particular stories are over, and it's time to close the door on them and make way for new ones.
The Diablo III: Ultimate Evil Edition is one of those that has something for everybody. It's great for those who haven't experienced D3 before, it's great for those who have, and it's great to play with other people. I rarely play games over again, but I've replayed D3 more times than I care to count. I'm not even sure why other than I have so much fun slaying demons.
Please read my full review at Action Trip, and feel free to laugh at me for my high score too, as I strongly stand by it. I really found nothing wrong with the game, and I can't stop playing it. Only reason why I didn't give it a 10/10 was because the story is okay, but it's nothing mind-blowing. The little side quests with the companions improved the story quite a bit, and kept it from being the same dull thing over and over. At least that's how I felt from the first time playing. May need to ask me again after I've played it a few more times.