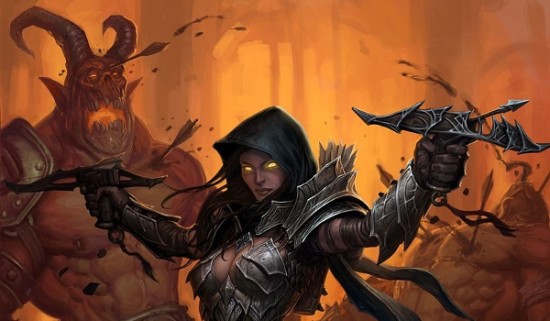 So over this past vacation, I've learned that I have a problem and apparently the only cure is more Diablo III.
As part of a birthday gift for myself, I bought a GAEMS PGE, and I took it with me on vacation last week. As my family likes to go to bed before 10 p.m., I knew I would want to play games at night like I normally do, so I packed the GAEMS case with me as well as a few LEGO games for the eldest son and Diablo III. A part of me thought of contacting my D3 team to see if they wanted to get together, but I opted to create a new character instead. I've played the game twice now as a Barbarian. Maybe there's another class I would like as much or more?
Oh yes there is, and it is the Demon Hunter.
It's amazing how much easier it is to stay alive when you don't have to run into the thick of things. I have my DH loaded up with acrobatic skills and dual crossbows that just happen to set enemies on fire. I am having the time of my life.
And now I want to try out another class, like the Witch Doctor.
While playing last night, I realized that D3 doesn't do anything groundbreaking. It's a lot like Gauntlet in that it's a dungeon crawler and you kill lots and lots of swarms of enemies. However, something about it is just so gosh darn fun. It's like a little stress release for me; I don't have to concentrate too hard on really anything other than killing stuff. I realize that the game should bore me as the story is hardly its strong suit, but it's just some mindless fun. Sometimes it's nice to not concentrate on who is shooting at me or biting my lip on solving a puzzle. Sometimes you just want to run through hoards of goat people and set them all on fire. It's not asking for a lot.
Yeah, this doesn't help me finish Dragon Age: Origins or even Bound by Flame, both of which I really need to snap my attention to soon. I know I keep saying that, but as I watch the calendar tick down, I see just how much I must do so. I'm such a procrastinator. Oh hey, it's lunch time…maybe I can defeat Maghda with my DH over lunch.