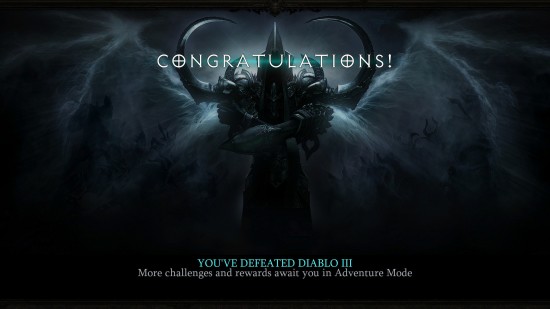 As you can guess, I spent pretty much every waking moment where I wasn't being a mom, eating, or sleeping playing Diablo III: the Ultimate Evil Edition. I've played Diablo III so many times over the last few weeks, one would think I'd be bored playing it yet again, but man, that most certainly was not the case. I had a new class to try out, a whole new Act to run around in, and the Adventure mode to play with. How could I be bored?
Yet, I'm not done with the original Diablo III. I haven't finished Hell mode, and I'm still planning on playing it with Chris and Blake until we reach level 60 or die trying. And then we'll import our characters as soon as Chris caves in and gets a PS4. And it will be so glorious.
I'm also hoping I will get the Diablo III: the Ultimate Evil Edition strategy guide this week so I can hammer out that review quickly. I normally don't like reviewing a guide without using it while playing the game, but unfortunately, I had to get through the game quickly for work reasons. I have plenty of questions for the guide, all of which I can't wait to see if it answers.
Tomorrow the First Light DLC for inFamous Second Son releases, and I am very stoked to jump back into that world as a different character. The fact that the character is Fetch, who wields my favorite power of the game, makes it even better.
Soooo I haven't played any Reaper of Souls in about 12 hours. I really feel the need to stop working and dive in for bounties.