The Swapper originally released on PC in 2013 and was a cult indie hit, winning numerous indie awards, but it totally slipped past my radar. I was offered to review it when it released on the PSN, and it proved to be a great Vita companion when I went on vacation.
What I didn't count on was how engrossing it was or how completely dark it was. I compared it a lot to Portal, but that was only for two reasons:
The puzzles were largely based on teleporting yourself of sorts to access certain areas, open doors, press buttons, etc.
I pulled my hair out a lot in frustration only to see that that answer was just so gosh darn simple and it was staring me in the face.
You play as a character who has no idea how he got on this particular space station or where all of its inhabitants have gone. He finds a tool called a Swapper, which places an exact clone of the character where you aim the beam. The Swapper can even swap out your soul with the clone, automatically beaming you to spots you couldn't reach personally.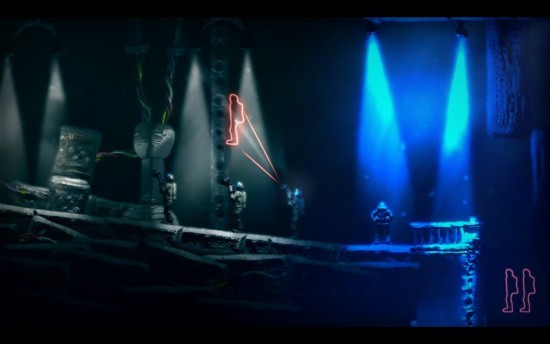 Here's a better explanation I provided for The Daily Crate:
The player starts off in an abandoned space station (or is it abandoned?) with absolutely no clue what happened to any other people who were presumably on the station or how he got there. He finds a Swapper device, which allows him to instantly clone himself wherever the Swapper's rays will reach. The catch is that the clones will do everything he does. He moves forward, so will they at the same speed. He jumps, they jump, so on and so forth. In addition, he can swap his soul between clones, which is useful as sometimes clones must be sacrificed in order to reach certain areas.

After about three or four instances of where you swap your soul with the clones and watch some clones die or be abandoned in rooms, you start to wonder which body is yours and if it matters you're no longer in your original body. That thought is the heart of darkness within The Swapper.

As you comb through the various empty rooms on the station, you come across portals that need a number of mystical orbs to operate. These orbs are in surrounding rooms, and, you guessed it, you have to use the Swapper in order to navigate the rooms and retrieve the orbs. The obstacles include pressure switches, blue lights that prevent using the Swapper, red lights that prevent swapping your soul, walls, pits, spikes, hovering conveyer belts, the list goes on and on.
The Swapper is a cross-buy puzzle game on the PSN, so if you buy it on one console, you'll get it on all three. However, I highly recommend the Vita version. The game seems meant for a handheld.