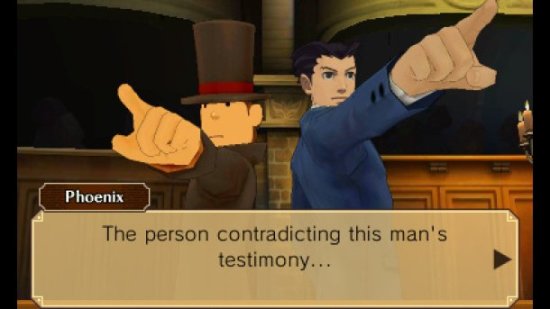 Believe me or not, I actually played no Diablo 3, either version, all weekend. The last time I played was during the EvilCast podcast, but I find I pay attention better if I play D3 than I do normally. Not sure why that is, but it's given me a great excuse to play while podcasting. Ross already plays League of Legends and Chris constantly plays some indie game during the podcast, so I might as well get in on the action. It is a gaming podcast, after all. It only makes sense that we play games while we podcast.
I forced myself to buckle down over the weekend and plow through the games I'm supposed to review for work reasons. Maybe I'll get to reviewing the Reaper of Souls strategy guide eventually, when I stop being such a terrible person. But for now, I had to focus on Professor Layton vs. Phoenix Wright: Ace Attorney, which is one of the better Professor Layton games I've played in a long, long time. I've been less than pleased with their games ever since the original trilogy ended, and this one felt like a call back to the earlier games. It also helped that the puzzle gameplay was broken up with the Phoenix Wright gameplay, which I didn't end up hating as much as I did in the beginning. I was still terrible at it, and that's where my hint coins went for the most part, but I embraced how they gamified the courtroom. Just please never think that's how court procedure goes. It hurts my head to think that kids out there believe that's how criminals are tried.
But the murder mystery-solving has not stopped there. I also started Sherlock Holmes: Crimes & Punishments on Sunday, which was far, far better that what I experienced at E3. As I'm under embargo, that's all I can say at this point. I must finish that review today, no way out of it. I want to say that I'm loving it and it's fantastic, but I'm not allowed to, you see.
Still waiting on the strategy guide for Hyrule Warriors, and Blake is going to review the guide for Disney Infinity 2.0. Maybe we'll have those up in a far more timely fashion than I've done for Reaper of Souls. Maybe that's why I didn't get the Destiny guide? I'm kidding, BradyGames! Please don't hate me.