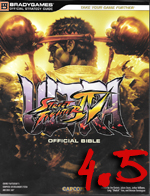 Oh Ultra Street Fighter IV, you are such a guilty pleasure. Not only do I love to play you, but I also watch you religiously when you show up on the Team Spooky Twitch.TV channel. I love your improvements, yet I hate my weak skillz. Even BradyGames can't help improve my noob level reaction times.
That's right, I'm back with another fighting game strategy guide review. The funny thing about this one is that BradyGames went full on beast mode and called this the Official Bible for USFIV. I took this as a challenge and put that title to the test.
The Ultra Street Fighter IV strategy guide gets right to the point. It starts with 35-pages of terminology. If you have no idea what chip damage, FADC, frames, fishing, or shenanigans are, this section is for you. Even if you know a fair amount of the lingo behind this game, browse through it as there might be terms you've heard but didn't know how they translated to the game. This section is especially useful if you watch Ultra Street Fighter IV streams. Reading this section is something you can easily do while drinking coffee or chowing down on lunch.
Once the glossary ends, it dives right into the characters. Each character begins with a small chart giving vitals such as life, jump distance, and various ratings. It also contains images of the character standing, crouching, jumping, and costumes available. The meat of the section then kicks in with an impressive breakdown of moves. Pictures and data regarding hits, block levels, startup, and more are nicely laid out.
The guide goes into great detail when it comes to throws, unique attacks, special moves, and ultra/super moves. If you ever wondered how to block an attack or frame cancel a move and punish your opponent, this guide has you covered. Rounding off the characters is a pro/con list followed by a bit of advice on how to play them in the close/mid/long ranges. The last bits of details are the common combo strings and how they work.
What I loved the most about the character breakdowns is that the characters, say Dhalsim, which have been through several revisions, the guide details the revisions from game to game. So in this example, Dhalsim had a hefty amount of tuning between Street Fighter IV and Super Street Fighter IV. These details even include the changes Arcade Edition received with the 2012 Update. This is extremely helpful as USFIV now lets you choose which edition of the game your character will fight at. Yes, this means vanilla Sagat can now take on AE Bison. I so dug that the authors took the time to put this in here.
That is pretty much the whole guide. I decided I would try something new with this review as well. Summer Jam happened not too long ago, and I was curious how this guide would hold up as a supplement to my stream watching. When the players picked their characters, I'd pick one and go to that character in the guide. I must say, the guide and all of its glorious info made for a much deeper appreciation of what the pros were doing and just how much understanding of the game they have. I will most likely do this again as it made for a great stream watching experience.
I chuckled when I first saw that BradyGames had the cojones to put the word "Bible" on the cover. Well, they certainly produced a guide worthy of the title. The amount of data this guide has might not help your reaction times, but it will most definitely give you a greater understanding of how to operate your beloved characters while aiding you to finally figure out how to beat those characters you are weak against.
I highly recommend this guide. I'd also recommend snagging the frame data app as while the guide can help with combos and the like, it cannot be updated with patches. The app and the guide are a must for any Ultra Street Fighter IV fan.
SGR Rating 4.5/5
Authors: Joe Epstein, Adam Deats, Arthur Williams, Long "ShadyK" Tran, Duncan Tonningsen
Publisher: BradyGames
Editions Available: Paperback
Acquired via Publisher