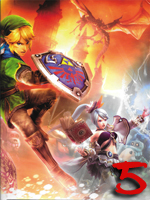 Tecmo Koei and Nintendo have both repeatedly said that Hyrule Warriors is not, repeat, NOT a Legend of Zelda game. It is, in all forms, a Dynasty Warriors game with a Legend of Zelda theme. Since Dynasty Warriors games pretty much hack-n-slash with a teensy bit of real-time strategy, why would one need a strategy guide for Hyrule Warriors? I'm glad you asked that question! While Hyrule Warriors is indeed a Dynasty Warriors game, it has enough Zelda puzzles and collectibles to warrant documentation and assistance for those who want every piece of the heart, every weapon, and every one of those blasted gold Skulltullas. Not only that, I'm not sure there's a way to get through the Adventure Mode portion of the game without the strategy guide and without pulling out your hair in frustration. So yeah, the Hyrule Warriors strategy guide has been my own personal Bible for Hyrule Warriors.
Do you need it to get through the Legend (story) Mode? Definitely not. You can swing your way through that with little trouble. The game tells you which rooms to go to and what to do to advance the story, and none of the combat moves are complicated. It's not hard to force your way through the campaign without help.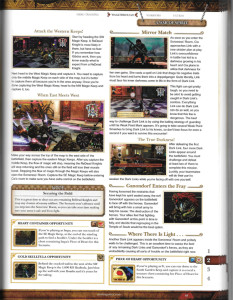 It's gathering all of the collectibles where the strategy guide is vital. Each level has two gold Skulltullas to find (one only appears in Hard mode), and they only appear under certain circumstances. In addition, when they do appear, you're given only the area where they are, not where they are. Sometimes they're in plain sight, but more often than not, they hidden. They also only appear for a short amount of time, so it's crucial to get there and nab the little devil as fast as possible. The strategy guide will tell you not only where he is and how to get him, but when is the best moment to get him. Sometimes those areas are locked too early in the level, or a certain story sequence will prevent you from backtracking. Since the Hard Gold Skulltullas have even more stipulations to trigger their appearance, this info is quite precious.
Not only that, but each level has pieces of the heart and heart containers (gotta have those for any Zelda game!) only found when clearing certain keeps. Each of these collectibles can only be nabbed if playing as a particular character. Since you can't get over half of these in your first playthrough, the strategy guide helps plan the additional playthroughs. There are so many levels, no one wants to play through each one over and over with a different character to find whose heart container can be unlocked.
Most of the Hyrule Warriors strategy guide is devoted to the Adventure Mode, and this is the largest chunk of the game, time-wise. The map in Adventure mode is the overworld map from the original Legend of Zelda, and each square represents a scenario to complete. Finishing levels in the Legend Mode unlocks scenarios, but you also have to reach a certain rank in scenarios to unlock future ones. Each scenario has the opportunity to unlock more weapons, Item Cards for Adventure Mode, characters, heart containers, and more gold Skulltullas. If it sounds confusing, it's because it is and it's completely overwhelming to boot.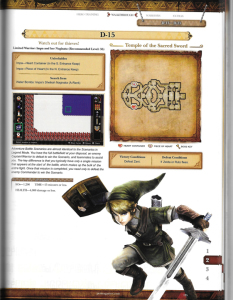 The strategy guide breaks it down by each square, A-1 through H-16 (now that should take you back), goes over what the scenario requires, the coveted A Rank prerequisites, and how to complete it without too much stress. This section alone makes purchasing the strategy guide worth it. This will eliminate potentially several hundred hours of game time spent in frustration. Plus, the overview breaks down the code in how to get both gold Skulltullas in every scenario.
The back section of the Collector's Edition has an additional treat, a behind-the-scenes look at making Hyrule Warriors. This includes the overarching story they wrote with the game, concept art, and how they developed the characters, including the Zelda history behind the characters. It's a fantastic addition that any Zelda fan would love to read through.
The Hyrule Warriors strategy guide has been by my side through each and every foray into Tecmo Koei's version of Link and Zelda's struggle against Ganondorf. I honestly couldn't imagine exploring Hyrule any other way.
Rating: 5/5
Author: Garitt Rocha
Publisher: Prima Games
Editions Available: Hardcover Collector's Edition
Acquired via Publisher