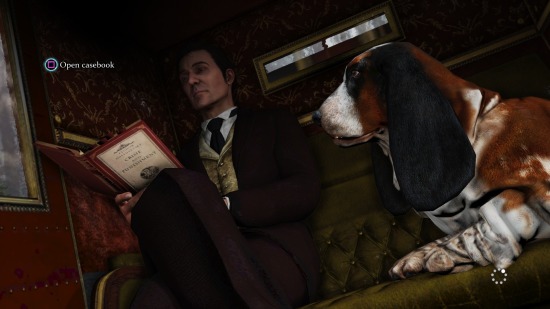 I saw about 15 minutes of Sherlock Holmes: Crimes & Punishments at E3 because I was late to my appointment (story of my life the whole show). I missed a good portion of the presentation, so I left rather unimpressed and I didn't feel comfortable writing about it with my E3 wrap-ups. For whatever reason, when the press release for the game came across my desk, I asked for a review copy. I am unbelievably glad I did.
I am a huge fan of the Sherlock Holmes stories. I read Sir Arthur Conan Doyle's complete collection numerous times when I was younger, and without a doubt, I can say that this game if the closest I'll ever get to experiencing a Sherlock Holmes story myself.
Here are some snippets from my full review over on Action Trip:
Through each case, Holmes will have to interrogate witnesses, observe them to press the appropriate questions, and search every nook and cranny for clues that the Scotland Yard and local police might have overlooked. Sometimes Holmes will have to research clues in his archive, perform chemical experiments to learn more about a clue, or use his faithful hound Toby to track down scents all while he explores every possible location and lead. Many of these tasks require the player to participate in little puzzle solving mini-games and interrogation QTEs. The good news is, if you fail an interrogation QTE, the game will let you try again. While one may think, so then what's the point of even trying if you don't have a real fail state? It's really about the sense of accomplishment, and the same can be said for the mini-games. All mini-games can be skipped, but it's harder to follow Holmes' investigation if you skip certain ones.

…

When Holmes has gathered enough clues, he can tie the clues together to form deductions, and from there, he can link the deductions to solve the case. It's the player's job to accurately form and interpret the deductions. The first case is extremely simple and straightforward. As you progress, the cases get far more complex and very, very gray, making it harder and harder to pinpoint the culprit and their motive. In fact, after the first case, multiple conclusions are available, and they all can make sense depending on how few or many clues you find.

Picking a certain conclusion does not guarantee that you've selected the right one. Not only that, but once you have confirmed you're ready to accuse someone, you have two moral options to choose from: convict or absolve. Convict is exactly how it sounds, but if you absolve, you sympathize with the killer and offer to help them. What you decide, both in conclusion and moral choice, affects what happens to Holmes in the end. Will he be trusted by the Yard? Will he patch things with his brother Mycroft? Will he be tormented forever by convicting the wrong culprit or by absolving the correct criminal? There is a reason why he's always reading Fyodor Dostoyevsky's Crime & Punishment in his carriage rides (a/k/a loading screens).
I was not entirely pleased with the fact that you could change your conclusion after watching it, because that takes you out of any realism there could be. However, that aside, the game was still enjoyable enough that it's one of my games of the year. I cannot recommend it enough.