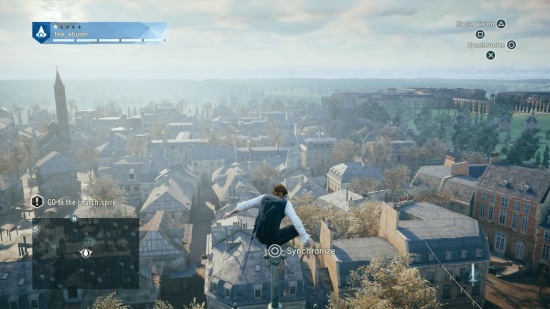 After my horrific experience with Assassin's Creed III, I wasn't sure if I would ever get back to an AC game. Assassin's Creed Revelations bored me, AC3 was absolutely broken, and I was done. I didn't even give ACIV a chance, which I've been told over and over again that was a mistake. Oh well. It looked like it had a lot of sailing, and I hated the sailing in AC3. It was seeing Assassin's Creed Unity at E3 that made me want to reconsider my stance on the franchise. Now that it's here, I couldn't be happier.
Okay, so maybe I could be. The texture-popping issues have been a little jarring, but since the latest patch released, there have been very few issues at all. And really, even if it wasn't fixed, I kind of wouldn't care. The game is so much fun, and so many of the mechanics have been vastly improved since the last AC game I played. I love that you can now control the parkour down buildings. I love how much smoother the parkour is in general. I love the crowd events. I love how the crowd dynamically changes. I love the murder mystery side quests. And OMG how I love the co-op.
Last night, I teamed up with a few friends for some 4-player co-op and we spent two hours doing nothing but running around the overworld and completing crowd events and stabbing random guards for looking at us oddly. We did a couple of actual co-op missions, and those were fun too, but we had more enjoyment running around and doing stupid things for ridiculous reasons. If I had more time, I'd set up weekly ACU sessions just for random stabbings.
In addition to a weird fixation I've developed on stabbing people in horrific ways, Chris and I discussed starting up a podcast for SGR. We're brainstorming ideas, honing content, and I hope to have something official and up and running by December. If there's anything you all would like us to have in the podcast, please give us your ideas here and on our FB page.
Also, I'm going to keep the Zelda poll up and running through the end of November. So far, Wind Waker HD is in the lead…