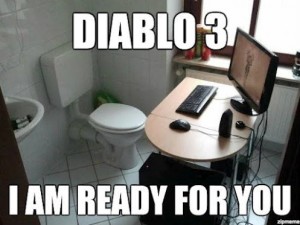 It's hard to believe that we've come to the end of 2014! In fact, tomorrow will be the last post of the year, and we'll be back ready to kick more strategy guide ass in 2015. Which also means that I'll wrap up the last few strategy guides I have outstanding for 2014 in January. I hate that that happens, but I can only do so much on my own. I probably could have delegated a couple of these out, but that's just crazy talk. I wanted these!
The kids are at their grandparents until Christmas Eve, so that means I have two kid-free nights. That also means that finishing Dragon Age: Origins or die trying starts TONIGHT. I think I have a decent save I can fall back on to get myself properly prepared, and if not, well, I'll be replaying a bit more than planned. It happens to the best of us. You have no idea how much I'm looking forward to sticking a fork in this game so I can move on to Awakening.
And speaking of games I'm ready to be done with, I'm ready to Platinum in the PS3 version of Diablo 3. I've had a lot of issues getting motivated to play that one, and while it mostly has to do with the lack of time, I'm also bored. I'm so tired of running through the game over and over with the same maxed out character. So I had a thought; I have a Barbarian that I originally started with this game, so why I don't I play with that character and run through all the way to Inferno with that one? Then keep going with new characters until I reach the 5 million gold obtained trophy? Then, THEN I can import those characters into my PS4 version and I'll be well on the road to getting all of the characters to level 70, which is another trophy. It's all about getting these Platinum trophies, as dumb as it is. I see that these are obtainable, so I must have them. I MUST!
But as for wrapping up as many strategy guides as we can before 2014 comes to a close, Chris has turned in his review for Super Smash Bros. and I finally have my review for Skylanders Trap Team. That one is so timely, I know, but at least it's getting done. Better late than never and all that jazz.
I hope all of you have a wonderful holiday season! We'll be ready to rock 2015 with this wonderful roll we've been on, including more podcasts! Chris and I are having a blast with those, and we hope you all are loving them just as much.