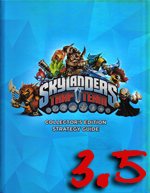 As much as I love little toys, it's amazing I never got into Skylanders before. It's all thanks to my eldest son and his wish for Skylanders SWAP Force for his birthday that I saw the genius behind the games. Yes, they're for little kids, but like the LEGO games, there are plenty of ways to make it "worthy" for adults too. The difficulty can be hiked up as far as you want it, and if you seek out all of the collectibles, something most kids won't have desire to do, or even more hardcore, go after 3-star ratings for each level, there's more than enough to keep adults on their toes with this game. In fact, these last few reasons are the best reasons for a Skylanders Trap Team strategy guide. If you want to get those 3-star ratings, trap all the villains the first run-through, efficiently complete the villain side quests, and find all of those collectibles, this strategy guide is nearly essential. I say nearly because to no fault of BradyGames, they don't tell players how to unlock certain gates because at the time, they literally could not.
Perhaps I should explain that first before I get into the rest of the strategy guide.
As is part of the Skylanders' schtick, each level has a few areas that can only be unlocked using specific Skylanders with certain elemental powers. There are Fire, Air, Magic, Undead, Life, etc. and etc. gates all throughout the game. In Trap Team, there are some gates marked with a lovely question mark, and not only does the game tell you that this gate requires an unknown element, but the strategy guide never once says how these gates can be unlocked. Just recently, Activision released two new packs of toys for Light and Dark elements, so now, nearly two months post release, players can finally unlock all of those gates and snag the last few collectibles and stars. I have a hard time believing that BradyGames knowingly refused to put in that information, that Trap Team toys of new elements would release at a later date. I believe that they knew how to unlock these gates, especially since the appendices explain what is behind each gate, but they were not allowed to explain. At least, that is what I hope.
Everything else with the strategy guide is rather spot on, if not a little padded. They presented tables for each of the Skylanders toys that had previously released, which showed each series they came from, which game, and their elemental powers. Then they dedicated a full page presentation to each of the new Skylanders for Trap Team. Sure, it's nice to see a breakdown of each of the toys' powers, which could possibly influence which toys to purchase first, but it also could have been easily displayed in a table for each element. They did the same for every trappable villain as well, so most of the strategy guide is dedicated to Skylander and villains, about over one-third of all the pages.
The walkthrough portions contain maps of the areas with most of the collectibles (except those behind gates) and the gates pinpointed within. Each level also instructs the player which trapped villains they should bring to the area to complete the villain side quests. All of the gates except for those requiring the unknown elements are also detailed, including how to snag every hidden collectible. Too many are rather tricky, and I know I would have overlooked a couple without the strategy guide pointing them out.
One thing I do wish the strategy guide contained in the walkthrough was little call-out boxes for the Achievements/Trophies. Certain levels have random tasks one must complete to get that Achievement or Trophy, and they aren't all that obvious. For example, chapter 3 has a special Trophy for smashing four stone Chompy statues. There are Chompy statues all over the creation, and it appears impossible to smash one of them, let alone four of them. A little explanation saying, "Hey, there's a special Achievement/Trophy in this area to do this, and it's best accomplished doing this." I might have overlooked this if tips were given in the appendices, but they were not.
The back sections, before the appendices, are crucial for those who want to find all of the collectibles scattered hither and yon about the Skylands Academy that constantly grows throughout the story. Also, there are vital survival tips for Kaos and Arena modes, both of which must be ventured into for Achievements and Trophies as well as fun. It's all part of that added difficulty for seasoned players thing I was telling you about. The Skylanders Trap Team strategy guide just helps alleviate some of the frustration and makes running through it a bit more efficient.
There's a lot of worthy information packed into the Skylanders Trap Team strategy guide, but is it exactly a necessity for the game? No, not really. It's more of a nice companion for Skylanders fans, a nice way to carve your shopping list for future toys and nice little pieces of prep advice to efficiently run through the levels.
SGR Rating: 3.5/5
Authors: Howard Grossman and Ken Schmidt
Publisher: BradyGames
Editions Available: Paperback and Collector's Edition
Acquired via Publisher