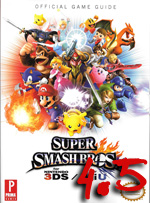 Of all the fighting games out there, I believe none are as chaotic and insane as the Smash Bros. series. This is no different for Super Smash Bros. on the WiiU and 3DS. The amount of fun this game is providing me is making it one of my must own titles for 2014. Sweetening the pot is this wonderful Super Smash Bros. strategy guide from Prima Games.
When it comes to fighting game basics, Prima Games put a heap of info in here. Not only does this guide detail the fundamentals of spot dodging, fast fall, tilt attacks, and so on, but the authors included notes that draw attention to how some moves change based on various characters. I found this section to be a solid refresher.
The one added item to this section is a small area dedicated to the Amiibos. I was totally not ready for this. It's a nice bit detailing what the Amiibos do for this game, and why anyone might want to invest in the figures. It's also nice to see all of the launch figures in once area. Anyone on the fence over this latest Nintendo add-on craze, this might be the final push needed to get a character or two, if you can even find them now.
With the basics done, it's off to the characters. I found this area to be pretty standard fare. Each character has a small stats block detailing the number of jumps, wall jump, wall cling, and crawl stats. Each attack contains a small blurb on what it does and how much damage it produces.
What I found most useful is the strategy portion for each character. Let's say that I wanted to try out Duck Hunt, but wasn't really feeling the mechanics for said fighter. The strategy section gives me a good place to start and what attacks I might want to focus on over others. The tips might seem basic, but they are very useful when trying to master more of the fighters.
Following the massive character section, the stages now get their time in the spotlight. Each stage has a small screenshot and a blurb detailing what to watch for in how the stage works. Anyone wanting to know how to unlock the hidden battle grounds will want to pay attention to the very beginning of this area. What I like most about this section is that the stages are broken down between the WiiU and 3DS versions. Complimenting this is that the tab navigation queues on the side is color coded, thus making it much easier to quickly skip one console section for the other. It's a small detail, but one that saves a good bit of page flipping.
Up next are all the items, and man are there a lot of friggin items in this game. This is one area where the repetition of the info was a bit much. The guide breaks down the items by their types, and lists the items fitting that type. After that, each item gets a blurb of detail, and again, the item type is listed. It's a bit redundant, but it's a small section, so nothing that makes it harder to read or navigate through the guide.
Now for the section I spent the most amount of time in: Game Modes. There is a lot to do in both versions of Super Smash Bros. and this is why this area is still my best friend. I mean, all of the unlocks are listed here, and I had to unlock everything! This also covers things such as challenge details, enemies, battle items, the shop, and so on. Yes, for the 3DS crew, this also tackles the Smash Run mode. While this area is a bit scatterbrained in the organization, it is probably the most useful part of this guide. While I'm still working to 100% the game on both my WiiU and 3DS, this will be by my side until that task is completed.
As I mentioned before, the only big complaint I have with this guide is that some info is repeated at times. It's nothing major, but it did sometimes feel as though my wife was "reminding" me to take the trash out…again….for the sixth time. There is also a timeline of the Smash Bros. series on the last page, and I felt this would have been better spent with some art from across all the games. Smash Bros. has a rich history, and having some bonus content on that would have just sent this guide to the next level.
You know, Prima Games impressed me with this guide. They could have just kicked a guide out covering one version of Super Smash Bros., but they didn't. They waited for both games to drop and then released this guide. The amount of info they put in here is ridiculous. Regardless if you're a seasoned veteran or completely new to the game, there is something in this guide for everyone.
SGR Rating 4.5/5
Authors: Nick Von Esmarch, Reepal Parbhoo
Publisher: Prima Games
Editions Available: Paperback and Collector's Edition
Acquired via Publisher