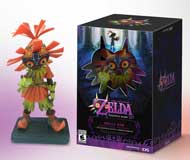 Nintendo recently announced a limited edition bundle of The Legend of Zelda: Majora's Mask 3D that includes a cute little statue of Skull Kid. That's already a nice little deal in of itself.
But if you peruse a little further, Prima Games also has a Collector's Edition for their upcoming strategy guide for the game that brilliantly matches their hardcover CEs for all of their past Zelda games. Most importantly, it matches the covers of all of the CEs from their massive Legend of Zelda bundle that they sold last year.
Buying each of these goodies separately will run about $85 before tax, so Gamestop has come up with a neat little bundle to tie them both together for a shade cheaper.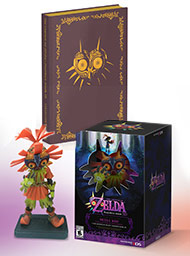 For $84.98 (I never said it was a ton cheaper), you can preorder the complete CE bundle now of The Legend of Zelda: Majora's Mask 3D that will contain both the game CE and the beautiful CE strategy guide.
Yes, I've already preordered my bundle. I know I probably could have gotten one from Prima as a review copy, but in this case, I just could not risk it. I have zero regrets.
In other news, Chris and I have pretty much declared war on one another for who will be reviewing the strategy guide for The Legend of Zelda Wii U. We might record our brawl for posterity.