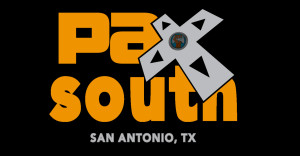 Laugh at me all you want, but I had plans to play Dragon Age Inquisition while at PAX South this weekend. I had a hard time forcing myself to stop playing that game all last week, so I packed up the Xbox One in vain hopes that I would be playing it at night after writing. I should have known it wouldn't happen after I didn't play it Thursday night.
We got into horrendous traffic Thursday night. Massive construction going on in one of the small towns on I-35, which took us nearly an hour and a half to get through 7 miles. We reached our hotel 2 hours later than we expected as a result, so we headed down to the hotel bar to drink our frustration away and then crawled into bed.
After that, well, we were waylaid by alcohol most nights. Friday night we drank too many free margaritas at the Saints Row IV launch party. Then we drank too many margaritas on Saturday night just because we're in San Antonio, which means you must consume margaritas. I didn't even get any writing done, which I do feel rather guilty about.
PAX South sadly didn't have a lot of publisher representation, but the indie devs were out there in full force, so it was nice to play several games I wouldn't normally do. Plenty of them were big surprises for me, such as a 2D platformer! I'd go into more details, but I should probably save more for the podcast.
I did get yet another Mass Effect tattoo before we went. My friend got the Elder Scrolls dragon tattoo, and I got the Renegade logo on my right ankle. I thought about getting it on my right shoulder, across from the Paragon logo, but the more I thought about it, the less I liked the idea. I like that they're in different spots. Plus, now I can yell, "Paragon Punch! Renegade kick!" My friend said we needed to go back to get Dragon Age tattoos, but man, if I get a third BioWare tat, I might as well stamp "Property of BioWare" on my forehead.
That said, I am honestly thinking about it. Because I have a serious, serious problem.