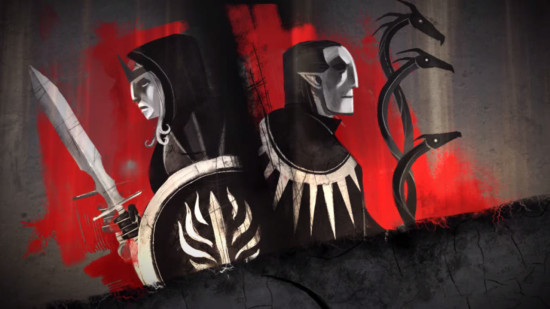 I ran through Dragon Age 2 far more quickly than I thought I would. My final time was 25 hours and I did almost every side quest available. I did all of the companion quests, anyway, even though I utterly despised most of my party. And when I say despised, I mean I tried to find ways to get rid of them. Like when Merrill killed the Keeper in her companion quest? I went through all of the dialogue options to find a way to turn her over to the elves to deal with. They didn't want her either, dammit.
That said, I admit I had more fun than I thought I would…until the very last mission. My exact response has been immortalized on Twitter:
WHAT THE FRAKKING FRAK??? #DragonAge2

— Keri Pwny (@crunchychocobo) January 9, 2015
My jaw was on the ground for pretty much the rest of the game. I couldn't believe it could go so badly and have so many plot holes. I also couldn't believe how it continued to get worse.
I chose to side with the mages because 1) Hawke's sister was a mage who had no part of blood magic and 2) I wanted to complete my romance with Anders even though he is a murdering a-hole. I did complete that romance, but I was ready to stab him in the face right after I unlocked that Achievement. You were so awesome in Awakening, man! How could you?
However, I am tempted to redo my ending and side with the templars, even though it makes absolutely no sense to do so with Bethany in the mages' circle. I mean, it's either that or Hawke is a mage and why would mage Hawke agree to kill all mages? Perhaps I should have done the playthrough where Bethany gets blighted and has to become a Grey Warden in order to side with the templars without killing my sister or being a total hypocrite. Oh well. I'm not going to go that far back in my playthrough to iron out the plot issues. After watching the First Enchanter turn to blood magic for really no reason, yeah, maybe all of you should be culled. And then when I played through the Legacy DLC and learned where the Blight first came from…yeah, mages seem to be the root of all evil.
Haven't fully decided yet if I'm going to be that committed to seeing the different endings. I know it all goes the same in the end, but it's a matter of how quickly the mage revolt spreads through Thedas.
Or maybe I'll just shrug it all off, deal with letting Anders live and the crappiness of the mages and import that game into Inquisition when I play that…after I get through my 2014 guides. I'm going to try to keep that one resolution, by golly!