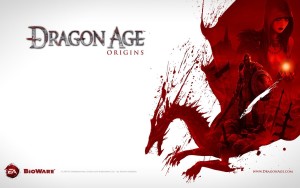 If you know Keri, you know she has a Dragon Age problem. The addiction of this game runs deep in her. There are drug addicts with better self-control. Okay, probably not, but you get the idea. So when she found out that I've never completed the game, it was like a shot to her gamer heart.
It's true, I own two versions of Dragon Age: Origins, and I have yet to complete either one. Looking at my played time on Steam shows I have invested 19hrs between the two versions, with the Ultimate Edition barely clocking in at an hour. However, I've never gotten very far and so those hours are simply me repeatedly replaying the starting area of the game, but with different characters.
Now we arrive at today. After a promise to Keri that I'd actually attempt to beat the game, I am starting another Dragon Age: Origins attempt. I have the game downloaded and linked to my EA account. I started a new character and made it to the first town. By the time this gets posted, I will hopefully be a bit further than that.
Maybe it is because I'm a dwarf warrior this time around. Maybe it is because I went all peasant rising up to rule the world as my origin story. Whatever it is, I'm enjoying the game a bit more than I remember. Hopefully this means I will finally beat it, and I can take another game off the ever expanding Stack of Shame. Only time will tell!