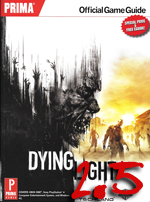 Dying Light is an interesting blend of shooter, scavenger, and parkour simulator. While the story was rather bland, the game itself was a friggin' good time. Sadly, that good time didn't translate to the Dying Light strategy guide from Prima Games. Usually I tackle my guide reviews in a section-by-section format, but I want to try something new. So I'm just going to write what I thought was bad and good from this guide.
Unfortunately, the part where most readers will spend their time is in the walkthrough and side quest portions of this guide, and those are really rough. I found both of these to be littered with inaccuracies on how to tackle a specific quests. Either the strategy guide would tell me to go to the wrong place, or it would leave out vital tasks that needed doing before the quest could be completed. There were quite a few times when I'd have to go to Dr. Google and ask its advice, because the guide just left me hanging and questioning what the heck I needed to do/go next.
Another point of contention comes in the form of the character development part. Outside of the experience and progression table, there isn't anything here that is not already clearly shown within the game. It would have been nice to have some pointers on how to develop the character to make the earlier portions of the game a bit easier. Sure, I don't have to follow those tips, but it would have been nice to see them included.
The biggest issue with this guide comes down to the collectible section. There is a map and a correlating picture for each item, but these don't always match up with what is actually in the game. The map doesn't mark all the collectibles accurately, which left me high and dry at times. When the map was right, there were times that the attached screenshot was incorrect. I don't know if the author had already snagged the item before doing a screen capture, but it made this section feel very incomplete and disjointed.
What the collectible section really needed was tips on how to snag the more complicated items. Until you get the grappling hook, trying to parkour the terrain to get to some difficult place can be an exercise in frustration. Having some direction would have helped. It doesn't make things better when I spend ten, or more, minutes getting to a place that was shown on the map to have a collectible, and yet I'm greeted with a big fat nothing.
Lastly, the multiplayer could use some love and attention. The guide has some basic maps and tips on how thing work when online. However, anyone wanting to learn more about being the monster will find absolutely nothing on the matter. There is just nothing of solid in this section, and for a game with so much that can be done with friends, this is not okay.
Yet, the strategy guide still has some redeeming qualities. When it comes to presentation, the book rocks it. The pages look like they are dingy and come from the game. The side navigation markers made it easy to get to specific areas without much of a hassle. The artwork, especially in the bestiary, is phenomenal.
I liked that the blueprints actually had info on where you obtain them and what they provide. Granted the map still suffers the same kinds of issues as the collectibles, but not nearly as bad. I used the blueprint section a lot more than I thought I would.
When the guide nails a mission or challenge, it does so in such a solid manner. There is a hefty amount of reading, so be prepared to spend a few moments digesting a heaping portion of text. However, when all that text leads to a successful mission without any major hiccups, it's a glorious time.
What I really dug about this guide comes in the last few pages. These contain all the Easter eggs, developer tips, and little quips on how to make the game a bit easier. It was fun to read that there was a Mario Bros. reference in the guide and then being able to find it in the game. It's not exhaustive, but enough that I spent some time actually enjoying the world and getting a laugh between all the work of caving in zombie heads.
When it comes down to it, the Dying Light strategy guide is hard to recommend. There are times it nails down its job and provides concise and useful info. Sadly, the amount of misinformation, bad maps, and lack of thoroughness just drag this guide down and make it unreliable. This is one guide that it is best to skip and just save yourself the headache by using online resources.
SGR Rating 2.5/5
Author: Michael Lummis
Publisher: Prima Games
Editions Available: Paperback
Acquired via Publisher