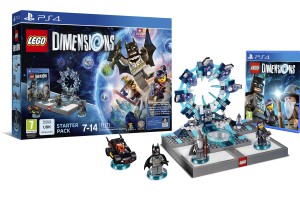 For those that might not know, I take pictures. I take an absurd amount of pictures of various toys living life out in the human world. This addiction started with my LEGO minifigs. Needless to say, I have a terrible LEGO addiction and so the announcement of LEGO Dimensions makes me both happy and worried.
The amount of LEGOs I have stored in my basement, combined with the amount I carry with me on photo excursions, borders on obscene. I decorate my house with various themed sets, mainly during Halloween and Christmas. I have a LEGO R2-D2 on my desk. I also have no issue dropping a Benjamin on nothing more than a handful of minifigs. I also enjoy the LEGO video games. They are just stupid fun to me.
So this announcement has me excited and oh so scared. I love that this is following the likes of the Skylanders and Disney Infinity, and Amiibos to some extent, types of games. What I dig the most is that instead of just being some paint figure you place on the "portal" type device, you build the figure, and the portal for that matter, as though it were a real set. This makes it more customizable and oh so true to the brand.
I am scared because I fear I'll be bankrupt by the end of the year. I am afraid my wife will divorce me when I drain the bank account to buy up all that this game has to offer. I worry I will not remotely be able to keep my addiction in check. I guess I could always sell a kidney to fund this first run of figures and such. NAH!
I look forward to seeing what further news LEGO kicks out as the release date for LEGO Dimensions draws closer. I already have a feeling this is an instant buy for me. Hopefully, I will be able to keep my addiction to these friggin' tiny plastic blocks in check. Yet, I highly doubt that is even possible for me.