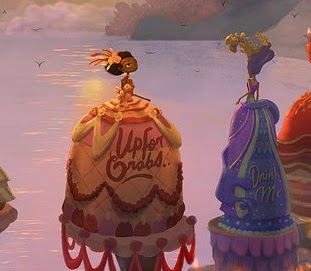 I had work to do this weekend, but I decided to procrastinate completely and play games I've already played. More specifically, I played Broken Age on the Vita. I know, I know, I played it on the PC, but the allure of Trophies was too much for me. I already know what I'm doing this time, so it shouldn't be too difficult to speed through the game, right?
And that was true; I finished the game in less than two days. When you know how to solve the puzzles, you can do it in a very efficient manner, which greatly cuts down on the backtracking. I had hoped that the photos I took of the Hexipal puzzle solutions would provide the exact same solutions, but the solutions either change with every playthrough or with different platforms. All of the notes I had made the first time around were nearly useless, but at least I was prepared.
And really, I think that's the only way to play Broken Age, at least in the last half. Although, I have to admit, after playing it again from start to finish, Tim Schaefer was 100% dead on with his recommendation to replaying the first act before diving into the second. There are an obscene number of hints for act 2 puzzle solutions in the first act. Maybe I only noticed them because I knew of the solutions, but I think having them in the forefront of my mind would have helped immensely.
I didn't get the Platinum Trophy, but with the Trophies in the list, it will take at least two playthroughs to get them all. Not sure if I even want to try, as I have no idea how to finish the whole game in less than an hour, but there are so many hidden Trophies I'm very curious about.
Yes, I have a Trophy problem, I admit it. I am going to MomoCon at the end of this month, so maybe that will be a good time to play it over and over. Or maybe I'll finish Bravely Default. I kind of want to finish that sometime this year (with everything else, I admit). I think conventions and airplane time will be the best opportunities to get a move on with that one. I think I'm nearly done; or that could be a Square Enix trick right before they open up 40 more hours of gameplay. Wouldn't surprise me.
In other non-procrastinating news, we got a review copy of the Bloodborne strategy guide! I am dropping that in the mail to Chris today so he can get to work on that as soon as he can. I've pretty much given up on trying to find time for Pillars of Eternity because I'm a horrible person, but I will not drop the ball for The Witcher 3. It helps that I'm not reviewing that game for work.
And speaking of reviewing games for work, I need to get on that Wolfenstein: The Old Blood. I hear it has a Grammar Nazi! DLC of the Year, right there.