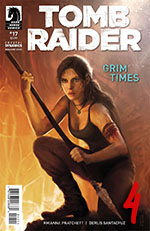 The Tomb Raider comic series has been very up and down for me with far more downs than ups. I've said repeatedly (on other sites) that I don't know why this comic series is so difficult. This should be the simplest thing in the world to come up with, and to be fair, I do not blame the writer or artists. In fact, since the writer/artist transition, the comic has vastly improved. The art is beautiful. The stories are ten times more interesting as well as written better. That said, I don't know why Crystal Dynamics constantly makes the comic go back to the damn Sun Queen and the Yamatai.
Issue #17 beautifully wraps up this story arc with rescuing Grim (it's not really him, as revealed in #16) with plenty of action, a lot of tomb raiding knowledge, and finally seeing Lara Croft embrace who and what she has become. However, I do not understand why the comic series continually falls back on two themes, as both weaken Lara and everything the first game set up.
I don't want to talk about the Yamatai anymore. I have said time and time again that I am sick of the story arcs and Lara all going back to the Sun Queen and her possible hold on Sam. The arcs spun from the Sun Queen are, simply put, awful and they ruin all closure the first game had. The only reason I can think of why Crystal Dynamics won't let this bitch die is because she's part of Rise of the Tomb Raider, which hurts deep inside. If that is the case, I'm not sure I have any interest in playing it. I'm personally done with that story and I'm ready for Lara to move on as well. I figured after the first two comic arcs and the novel, she would, but CD isn't ready to let this sleeping queen lie. No wonder Lara is in therapy in the next game; I would be in therapy too if I constantly had to deal with Yamatai even though I'm not on their island.
So yeah, I don't want to talk about the last panel, other than say I finished reading with my head thumping my desk.
In addition to Yamatai, the comic has this need to constantly tell Lara she's scary when she's saving someone's ass. When Lara begged an actress to stay in Jonah's play, they were nearly mugged, and Lara handled it. Instead of thanking her and telling her what a badass she is, the actress told Lara she scared her more than the muggers and couldn't have anything to do with her. She quit the play because Lara scared her…when Lara saved her life.
In #17, the same thing happens when Lara saves Grim's lookalike. She uses snakes slithering around in their pit of doom to break the bars in the bottom of their cell, which gives them both a tunnel to crawl through and escape. She tells Grim that the snakes aren't poisonous and that they are more scared of him than he is of them. His response isn't, "Oh Lara, thank you so much for saving my ass and knowing so much about snakes." He says, and I quote, "I'd say they're more frightened of you! I think I might be more frightened of you!"
Why on earth are all of these people so afraid of Lara when she's saving their lives? It boggles my mind. She didn't murder anyone in front of Grim. She didn't stab a snake. She tricked a snake into thinking it was strangling food when it was strangling one of the cell bars. Which allowed them to escape. How is that scary? These people are so ungrateful.
It's a shame that these two themes plagued #17 as well, because if neither of these happened, I'd say it was the best comic of the entire series. Well, actually, #17 is the best one of the entire series, even with them. Since we're going to inevitably go back to a Yamatai arc next, may it please be short and may it please be the last one.
Digital review copy received from publisher.